ATV's and ORV'S
There are Municipal and Provincial regulations governing the usage of Off-Road Vehicles (ORV) within the city limits.
Certain ORVs are permitted on certain city streets. Please review the City of Greater Sudbury All-Terrain Vehicle (ATV) By-law 2015-158
You will find the types of ORVs authorized on designated city streets, maps of authorized roads, Frequently Asked Questions (FAQ), a link to the GSPS website, as well as, a link to the Ministry of Transportation of Ontario (MTO) website. All of these resources provide answers to FAQs for on-road use of Off-Road Vehicles including licence requirements, passenger restrictions and vehicle definitions.
All ORVs used off of your own property, or on private property where you have permission to be on, must be properly registered (ownership) bearing a properly affixed permit (plate) and be properly insured. This includes when riding on Crown Land.
Please ride responsibly and respect other land users.
The Greater Sudbury Police Service Rural Community Response Unit will continue to conduct enforcement in high volume complaint areas.
If you have a complaint regarding drivers operating ORV's in an unsafe or unlawful manner, please file an online complaint through CopLogic
Snowmobile Safety
We know many people in Sudbury and Northern Ontario love to take advantage of our snowy winters and take their snow machines for a ride. Before you rev up your snow mobile engine, please consider these safety tips:
Before you leave
Fill up your gas tank
Check the weather forecast before heading out.
Dress appropriately - wear clothing in layers, and make your top layer a snowmobile suit or other windproof layer
Tell someone where you're going, the route you will take, a description of your snowmobile, and when you expect to return
Never travel alone
While you are driving
Always drive within your ability

Take extra care on corners and hills

Obey speed limits and road/trail signs

Always stay on the right-hand side of the trail

Use appropriate hand signals before stopping, slowing down or turning

Take extra care at road and rail crossings - cross roads at designated crossings and at a 90-degree angle so you can cross safely and quickly

Never ride on private property without permission of the land owner
Driving at night
Reduce your speed - some hazards are harder to see in the dark
Use your headlights and drive at a speed where they can shine ahead of you
Wear clothing that has reflective markings so that you are more visible to others
Driving on ice
Avoid driving on unfamiliar frozen lakes and rivers, as open water may not be visible
If you must drive over ice, wear a buoyant snowmobile suit
Always drive on ice that is new, hard and clear
Never drive on ice that is slushy, weak, near moving water or that has recently thawed and refrozen
Check ice conditions with the local snowmobile club before you head out
Boating Safety
If you're planning on taking your boat out for a ride, please be reminded that having open alcohol onboard a moving vessel is against the law.
Safety Tips
Wear your lifejacket. Make sure there is an appropriately sized lifejacket on board for each passenger. But don't just carry them – wear them. Make sure they are in good condition. Always check that the zippers, buckles, fabric and seams are in good working order.
Boat sober. Boating under the influence of alcohol or drugs is not only against the law – it can be deadly.
Prepare your vessel. Ensure your boat has all the required safety gear and sufficient fuel. Be sure the weather is suitable for your vessel's capabilities.
Pleasure craft operators are required to take and pass an accredited course and obtain a pleasure craft operator card before getting behind the wheel
It is your responsibility to have the proper safety equipment on board. If something goes wrong on the water, having the required safety equipment readily accessible and in good working order could save your life.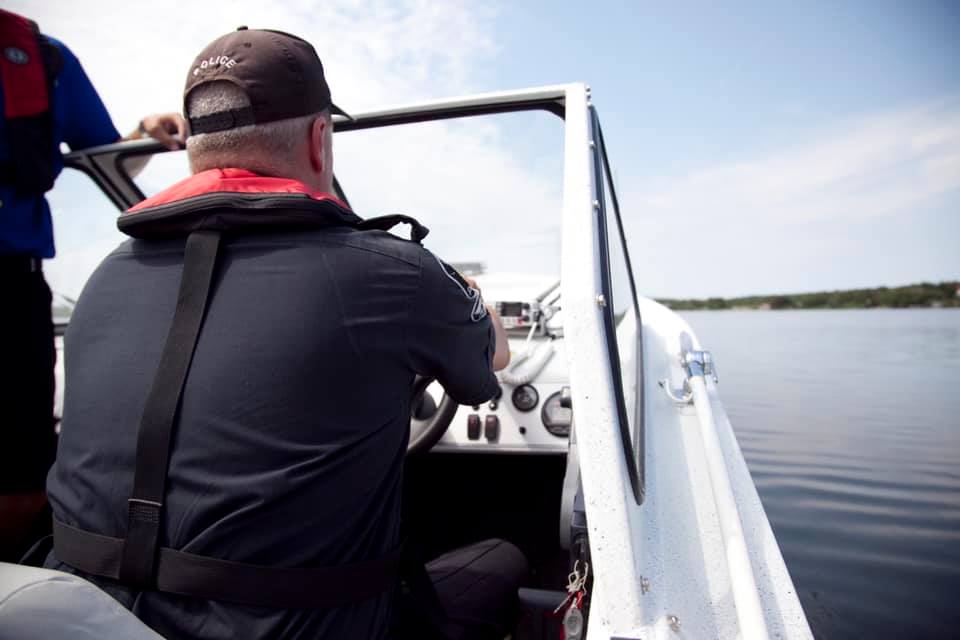 It is mandatory to carry the essential items on-board (I.e. floating rope, flashlight, whistle, manual bailer, paddle or anchor). All safety equipment on board must be:
• in good working order;
• always easy to reach (so that it can be used in an emergency); and
• maintained and replaced in accordance with the manufacturer's instructions or recommendations.
These requirements do not apply to inflatable self-propelled water toys as these toys are not designed for use in open water. If you do choose to operate these toys in open water, enforcement officers will treat them as pleasure craft that are subject to the same rules as per
Transport Canada's Safe Boating Guide
.
Enjoy the water responsibly and stay safe.
Reporting an Accident
An operator involved in a boating accident must report the accident to the local police as soon as possible if the accident caused:
Death of any person or…
Injury to a person that requires hospitalization or…
Property damage exceeding $5,000.
Accidents must be reported in writing to the Minister of Transport within 14 days if the accident resulted in:
Injury to a person requiring medical treatment beyond first aid but not hospitalization or…
Property damage exceeding $2,500
A pleasure craft refers to any boat that is used for pleasure activities, such as fishing, water sports, sailing.
The types of accidents that occur while boating include:
collisions with other watercrafts or rocks, sinkings
Accidents can happen during any boating-related activity, such as:
canoeing and kayaking
waterskiing, tubing
speed boating
Why do boating accidents occur?
May be due directly to the fault of the operator of the boat or PWC, if the driver was
alcohol or drug impaired
inexperienced
driving recklessly
not following safety measures
May also be due to a number of other reasons, including:
defects in the boat or PWC
unexpected bad weather
lack of safety warnings
mechanical malfunctions
carbon monoxide poisoning in a small enclosed space
What is the responsibility of the owner and operator of a boat?
Transport Canada regulates boating laws in Ontario and throughout Canada. The law that governs the operation of all pleasure crafts in Canada is the Canada Shipping Act.
Owners and operators must also follow various regulations, such as the Vessel Operation Restriction Regulations, which include age restrictions for operating vehicles, licensing and registration rules for various types of pleasure crafts, speed limits and other specific safety requirements. It is the duty of the owners and operators of a boat to follow applicable laws and to exercise care in order to prevent injuries to passengers and other boaters.
Provincial laws
In Ontario, legislation affecting recreational boat owners & operators includes:
Occupier's Liability Act/-Highway Traffic Act/Insurance Act
Canada Boating Laws and Regulations
Age and Operator Restrictions
These age and horsepower restrictions from the Vessel Operation Restriction Regulations (VORRs) apply to any person who operates a pleasure craft for recreational purposes in Canadian waters.
Persons under 16 years of age are prohibited from operating a pleasure craft that is above these specified horsepower limits.
Persons under 12 years of age who are not directly supervised by a person 16 years of age or older may only operate a pleasure craft propelled by a motor of no more than 10 hp (7.5 kW).
Persons at least 12 years of age but under 16 years of age who are not directly supervised by a person 16 years of age or older may only operate a pleasure craft propelled by a motor of no more than 40 hp (30 kW).
Only persons 16 years of age or older may operate a personal watercraft (PWC) without supervision.
The above age restrictions do not apply in the Northwest Territories and Nunavut.
Proof of Competency
In Canada, all persons who operate a pleasure craft must carry proof of competency on board if the pleasure craft has any type of motor, including an electric trolling motor, and is used for recreational purposes. Not carrying your Pleasure Craft Operator Card (PCOC) when one is required can result in a fine. A variety of documents may serve as proof of competency.
A Pleasure Craft Operator Card that you receive after passing a boating safety course approved by the Department of Transport or…
Proof that you passed a boating safety course in Canada before April 1, 1999, or…
A certificate from the List of Certificates approved by the Department of Transport or…
A completed safety checklist for a rented boat—good only while the boat is rented.
The only exception is persons operating a pleasure craft in the Northwest Territories or Nunavut.
Enforcement
The Royal Canadian Mounted Police, provincial and municipal police forces, and other local authorities enforce the boating laws of Canada to make your boating experience safe and pleasant. Cooperate with them by following the laws and guidelines.
Carry the Card: Vessel operators who are required to have a Pleasure Craft Operator Card must carry the card on board the vessel and have it available for inspection by an enforcement officer.
Penalty: Not carrying your Pleasure Craft Operator Card (PCOC) when one is required can result in a fine.
Reciprocity
All provinces, territories, and states that have mandatory boater education requirements will accept the Pleasure Craft Operator Card (PCOC). Likewise, Canada will accept boating education cards that are issued by states that meet NASBLA requirements as proof of competency. (This is known as "reciprocity.")