Posted on Thursday, November 19, 2020 03:28 PM
We are requesting the Public's assistance to locate 34 year old Ty Thrush in connection to six Robberies that occurred between November 7, 2020 and November 15, 2020. Two of the Robberies took place back-to back on Notre Dame Avenue on November 14, 2020.
Just before 10:00 p.m. on November 14, 2020, we received a call that a Robbery had just taken place at a restaurant on Notre Dame Avenue in Greater Sudbury. Information provided was that a man had entered the establishment, demanded money from the...
Posted on Thursday, November 19, 2020 09:42 AM
Just before 11:45 p.m. on Wednesday, November 18, 2020, we received multiple calls regarding what was believed to be gun shots being fired in the area of Frood Road.
As Officers were making their way to the area, additional information was provided that several individuals were seen arguing outside of a residence prior to the sound of gun shots being heard.
Officers arrived in the area of the residence and located multiple shell casings on the ground outside of the home.
Officers canvassed the area...
Posted on Wednesday, November 18, 2020 08:47 AM
Around 6:40 p.m. on Tuesday, November 17, 2020, we received a call regarding a serious multiple vehicle collision on Elm Street (Municipal Road 35) near Big Nickel Road. When Officers arrived on scene they found that three vehicles were involved in the collision; a Blue SUV, a White pick-up truck and a Silver SUV.
Unfortunately, two of the involved drivers, a 40 year old woman and a 55 year old man sustained fatal injuries. The woman was pronounced deceased on scene and the man was transported to...
Posted on Monday, November 16, 2020 11:53 AM
Just after 11:00 a.m. on November 13th, 2020, a GSPS Police Officer, Constable Thomas Van Drunen, was stopped by a GSPS Police Officer on Municipal Road 80 in Greater Sudbury.
As a result of an investigation, Thomas Van Drunen was charged with the following offences under the Criminal Code of Canada:
Operation while Impaired
Operation while Impaired – Blood Alcohol Level Concentration Equal to or Exceeds 80 mgs of Alcohol in 100mL of Blood
Van Drunen began with the Greater Sudbury...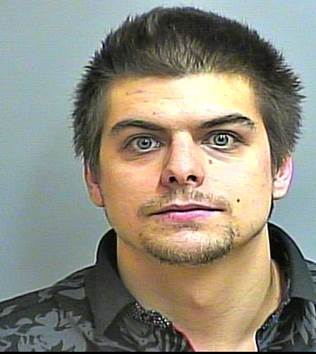 Posted on Friday, November 13, 2020 11:52 AM
The Greater Sudbury Police Service is requesting the public's assistance in locating 29-year old Tyler Thrones.
The GSPS holds an outstanding warrant for the arrest of Tyler Thrones for the following offences under the Criminal Code of Canada, in relation to an incident that occurred in Greater Sudbury in April 2020:
Conspiracy to Commit Murder X3
Extortion
Criminal Harassment
This warrant has now been upgraded to a Canada-wide warrant for his arrest.
Tyler Thrones is described as 5'10"...