Posted on Tuesday, August 31, 2021 12:34 PM
Although we could not gather in person this year for the Community and Police Awards Gala, we would still like to formally recognize members of our Service and of the Public who have had a direct impact on community safety and well-being in Greater Sudbury.
Over the next two months, we'll be sharing the recipients of each respective award on our social media channels.
Today, we present the Police Community Leader Award to Kevin Powell.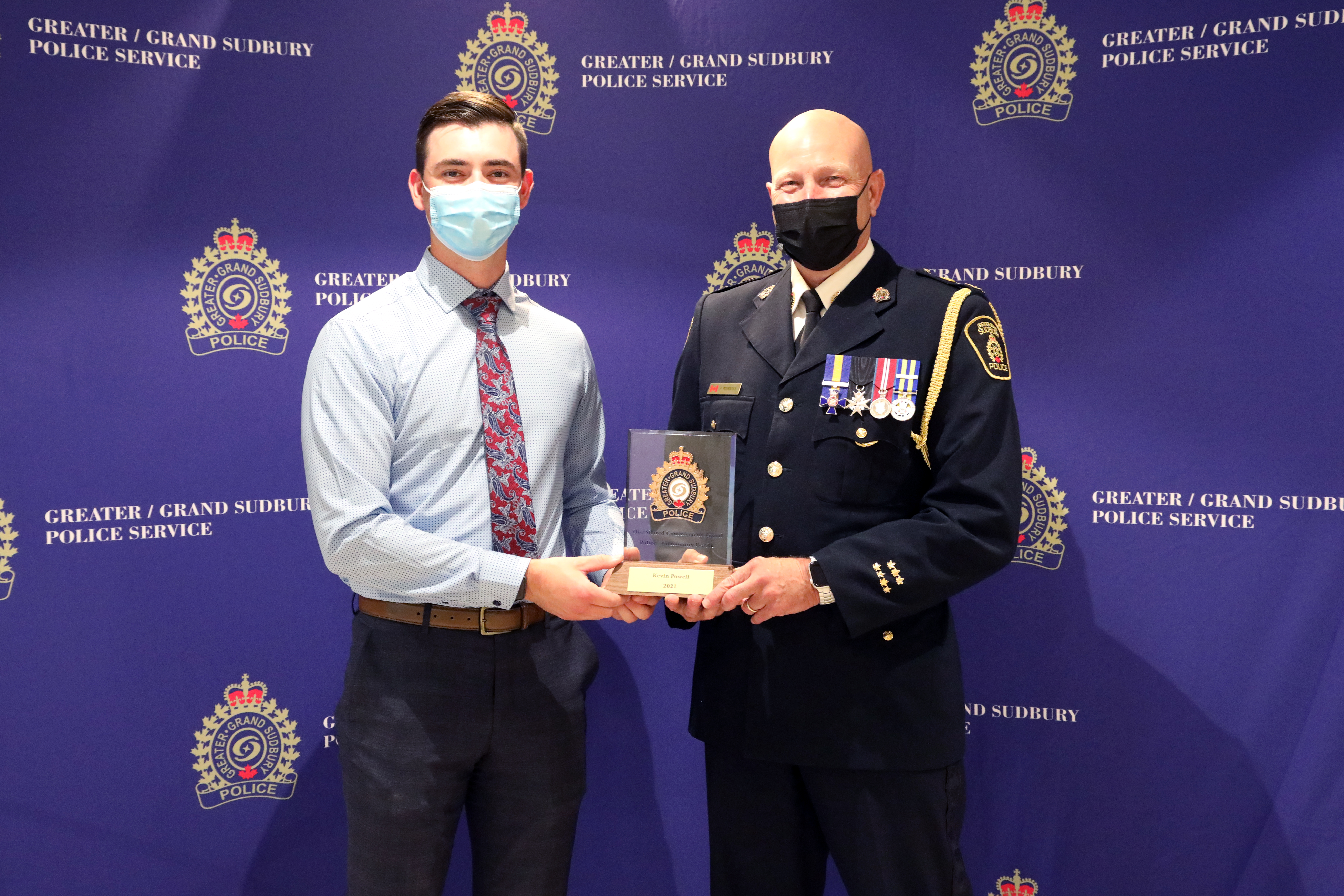 The Police Community Leader Award is presented to a leader...
Posted on Wednesday, August 25, 2021 11:46 AM
UPDATE
Since the arrest of James "Jamie" Doucette on August 24, 2021, Detectives from our Internet Child Exploitation Unit have continued to investigate information related to the initial investigation.
As a result, James Doucette has also been charged with the following offences:
• Sexual Interference x3
• Sexual Assault (child) x3
• Sexual Assault (adult)
• Invitation to Sexual Touching x2
• Sexual Exploitation
• Sexual Exploitation x2
• Forcible Confinement
Due...
Posted on Friday, August 20, 2021 10:02 AM
UPDATE
On the afternoon of August 14, 2021, Members of our Emergency Response Unit including our Canine Unit conducted a search in the area of Lloyd Street in relation to the shooting that took place early that morning. During the Canine search, Officers located a bicycle and two firearms in a wooded area. One of the firearms was a replica revolver; however the second firearm that was located is believed to be the gun used during the original incident.
Through the investigation, Detectives in our...
Posted on Friday, August 13, 2021 12:02 PM
Shortly after 6:15 p.m. on August 12, 2021, we received a call from an individual who was lost after venturing off of the groomed mountain bike trails in Naughton. The individual found himself in a very dense bush area and he was extremely tired as he had been attempting to find the trail for quite some time.
Members of our 9-1-1 Emergency Communication Centre (ECC) asked the man to download the What3Words app on his smart phone and to stay put as Officers were en route with our Remotely Piloted...
Posted on Monday, August 09, 2021 11:56 AM
Just after 6:00 p.m. on August 8, 2021, we received a call regarding an Impaired Driver as the individual had been seen consuming numerous alcoholic beverages prior to getting behind the wheel of an RV. The vehicle was last seen on MR80 in Val Caron heading towards New Sudbury.
Around 6:10 p.m. Officers located the vehicle on Notre Dame Avenue and conducted a traffic stop. The Officers approached the vehicle and began to speak with the driver. Upon speaking with the driver, the Officers could smell...