Posted on Tuesday, November 09, 2021 02:43 PM
Just before 1:00 p.m. this afternoon, November 9, 2021, we received a Weapons complaint at Lasalle Secondary School. Information provided was that a youth was seen outside of the school with what was described as a firearm.
Administration at Lasalle Secondary School placed the school in lockdown in order to ensure the safety of students and staff. Students who were not in the school during the time of the lockdown were brought to a place of safety in order to allow Officers to investigate the incident.
Officers...
Posted on Thursday, November 04, 2021 10:20 AM
The Police Community Leader Award is presented to a leader in the City of Greater Sudbury in recognition of unselfish assistance provided to the Police Service or for an initiative that has made a positive impact on the effectiveness of the Police Service.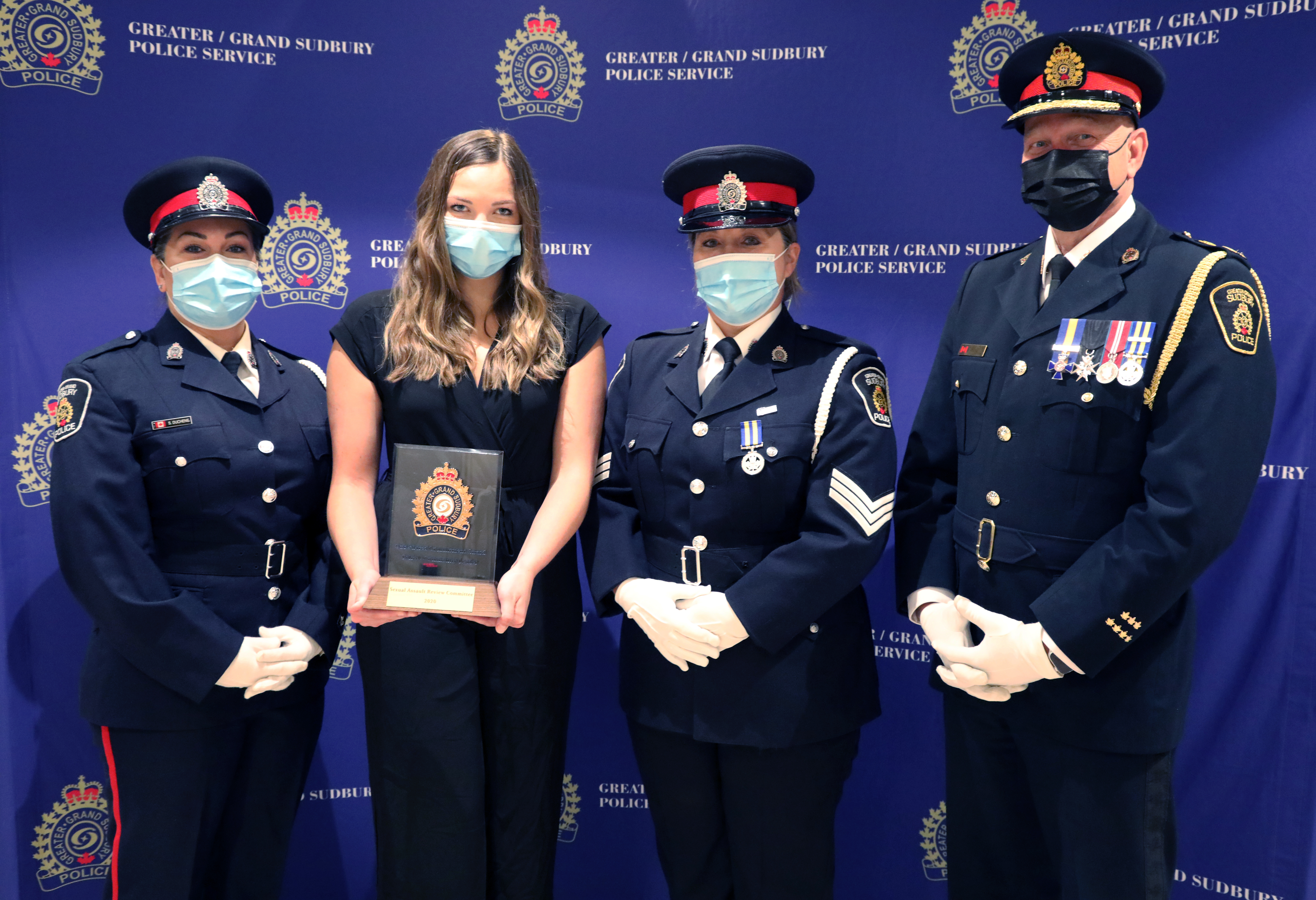 In 2017, the Greater Sudbury Police Service working in collaboration with community partner agencies, formed a Sexual Assault Review Committee comprised of representatives from the Looking Ahead to Build the Spirit of Our Women – Learning...
Posted on Wednesday, November 03, 2021 08:44 AM
Yesterday evening, November 2, 2021, we received information that an individual wanted in connection to a Shooting in Toronto was potentially in Greater Sudbury.
Detectives from our Integrated Crime Section began an investigation into the information that the man was believed to be inside a residence on Eva Avenue.
Upon confirming that the man was inside the residence, members of our Emergency Response Unit arrived on scene and quickly set up containment of the residence.
Shortly after 6:15 p.m.,...
Posted on Tuesday, November 02, 2021 03:14 PM
Just before 12:30 a.m. this morning, November 2, 2021, we received a call regarding a Suspicious Person outside of a residence on Ramsey View Court in Greater Sudbury. Information provided was that two men were seen underneath a parked vehicle and it appeared that they were attempting to remove parts from the vehicle.
A short time later, Officers arrived in the area and saw two men fleeing the scene on foot. The Officers quickly caught one of the men while the other fled into the bush.
Upon searching...
Posted on Tuesday, October 26, 2021 12:25 PM
The Meritorious Action Award recognizes members of the Police Service for exceptional performance of duty, community policing initiatives, or innovative initiative that enhances the image or operation of the Service.
In 2017, Sergeant Matt Hall began his role as the Community Mobilization Unit (CMU) Liaison Officer where he undertook the responsibility of being the Police lead for the Rapid Mobilization Table (RMT). RMT is a multi-agency approach to identifying and reducing acutely elevated risks...