Posted on Thursday, September 23, 2021 12:27 PM
WARNING: The following contains subject matter that may be triggering or disturbing to some readers (includes details of an attempt suicide). If you are in a crisis or feeling overwhelmed, please reach out for assistance. Call 911 in an emergency and/or where there is an immediate threat to your safety or the safety of others. Additionally, Sudbury and Area Victim Services (SAVS) is a 24/7 community based service that provides immediate short-term crisis intervention services to persons affected...
Posted on Wednesday, September 22, 2021 09:47 AM
UPDATE
Around 6:15 p.m. yesterday evening, September 21, 2021, we received a call regarding a man matching the description of the driver involved in the incidents earlier that day. Information provided was that the man was seen in the area of Falconbridge Highway and Longyear Drive.
Officers attended the area and located the man. Officers confirmed that it was the man believed to be involved in the theft of motor vehicle and erratic driving incidents that morning.
At 6:30 p.m., Officers placed the...
Posted on Tuesday, September 21, 2021 11:01 AM
Around 9:30 a.m. we received a call regarding an erratic driver in the area of Cote Boulevard in the Valley. Information provided was that the driver of a pick-up truck was doing donuts in the middle of the roadway. The vehicle was then seen being driven into oncoming traffic and was involved in a collision in the area of Skead Road. The driver fled in the vehicle prior to Police arrival. Fortunately, the driver of the second vehicle was not injured as a result of the collision.
The man driving the...
Posted on Tuesday, September 21, 2021 10:17 AM
Around 6:10 a.m. this morning, September 21, 2021, we were contacted by City of Greater Sudbury Fire Services after Firefighters responded to a residential fire on Antwerp Avenue. Upon entering the residence, Firefighters located a deceased individual inside one of the units.
At this time, we do not have a confirmed identity of the deceased person. We are working in collaboration with the Coroner's Officer and the Ontario Fire Marshall. The investigation into this incident is ongoing.
Patrol...
Posted on Friday, September 17, 2021 03:14 PM
Congratulations Detective Sergeant Angie Sirkka, Detective Constable Stephanie Duchene and Ms. Julia Kinna, BSW on being nominated for an OWLE Teamwork Award!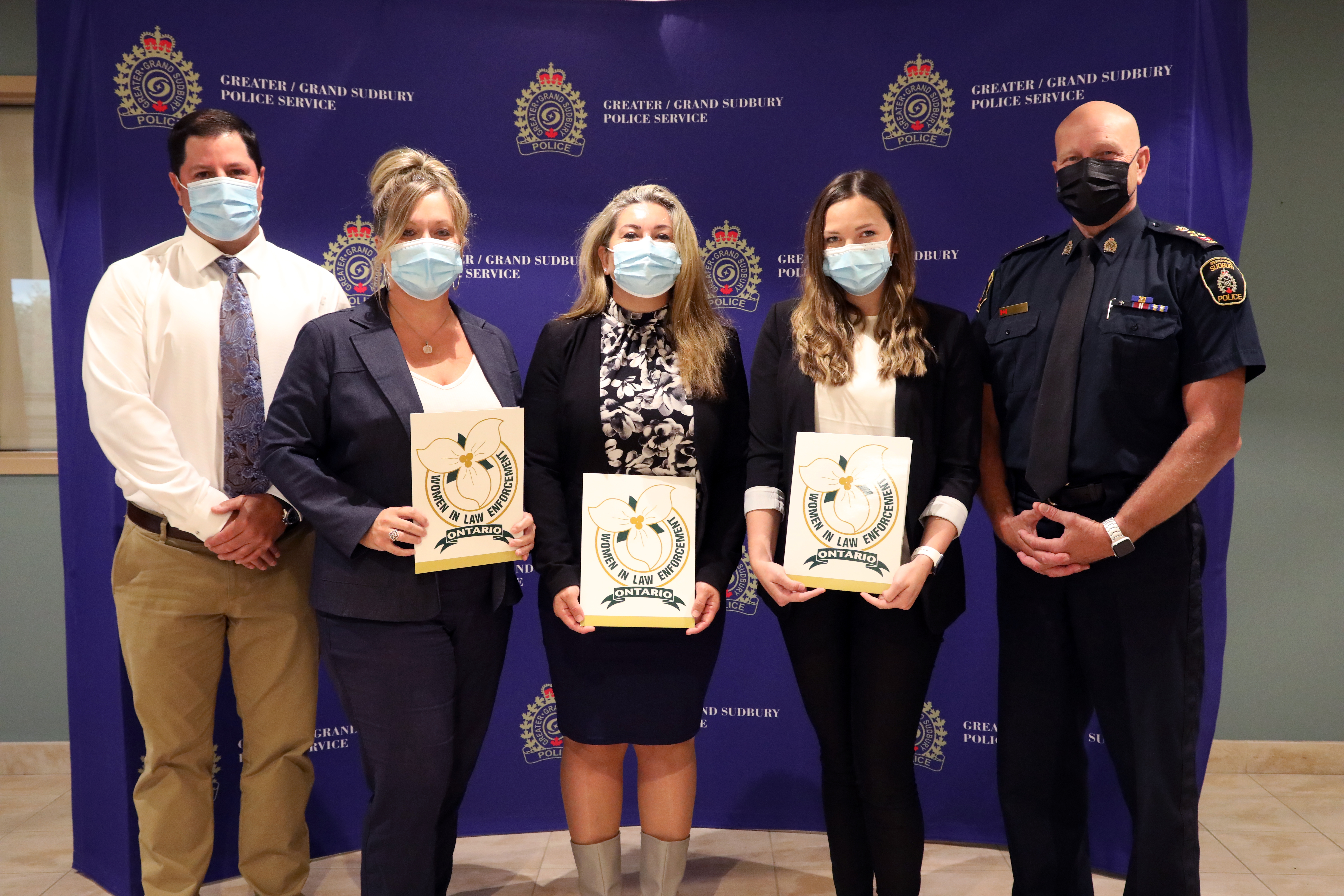 The OWLE Teamwork Award recognizes the exceptional successes of women in law enforcement working on complex, comprehensive, ground-breaking or long-term projects and who have successfully fostered change and have made contributions as leaders and mentors.
Sexual Assault is the most under-reported crime and the Greater Sudbury Police...