Posted on Friday, October 22, 2021 01:10 PM
The Chief's Honorary Distinction Award is reserved to celebrate the commitment, dedication, and service in recognition of members who are distinguished by their significant contributions and dedication to protecting the community above the call of duty, and whose excellence and distinction reflect positively on policing and public safety.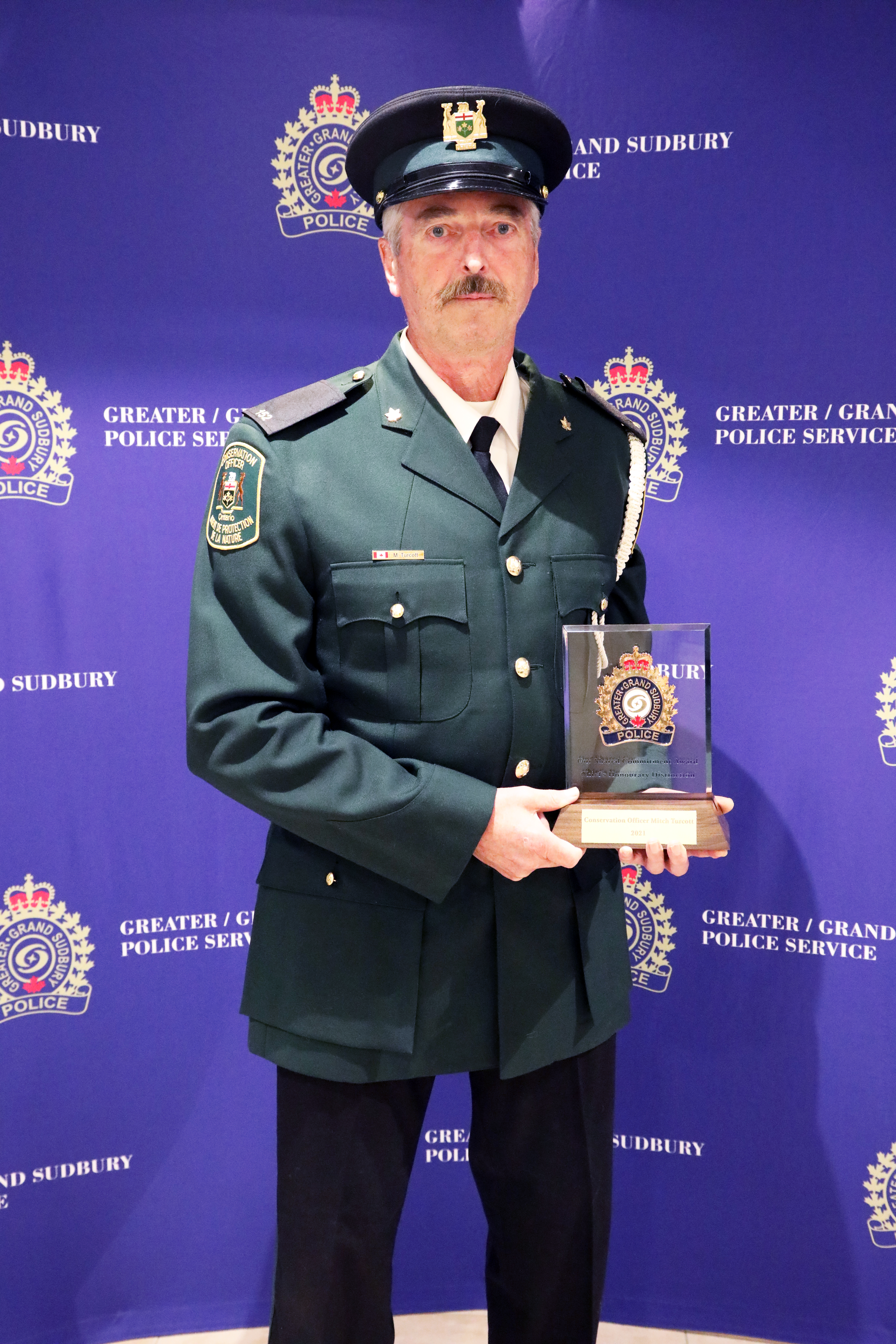 Around 2:30 p.m. on May 18, 2020, a Greater Sudbury Police Service member suffered a life-threatening traumatic leg injury while off-duty.
As her husband,...
Posted on Friday, October 22, 2021 11:46 AM
Around 2:16 a.m. this morning, Friday, October 22nd, 2021, we received a call in relation to a pedestrian who had been struck by a North-bound Honda CRV on Notre Dame Avenue at King Street.
The 21-year old man suffered serious but non-life threatening injuries and was transported to Health Sciences North where he remains in stable condition.
The driver of the Honda CRV, a 41-year old woman, sustained no injuries.
The roadway was re-opened just before 9:00 a.m. this morning. We thank everyone...
Posted on Monday, October 18, 2021 05:22 PM
Just after 2:00 a.m. on Saturday, October 16th, 2021, we received a call in relation to an Unknown Trouble at a residence on Dublin Street in Greater Sudbury. Information provided from the caller was that an individual had ran out of the residence screaming that someone was hurt and that an ambulance was required. Prior to this, the caller had witnessed a different man, with a slim build, fleeing from the residence.
Police and Paramedic Services arrived on scene minutes later. Upon arrival, a woman...
Posted on Monday, October 18, 2021 09:48 AM
Although we could not gather in person for the Community and Police Awards Gala, we would still like to formally recognize members of our Service and of the Public who have had a direct impact on community safety and well-being in Greater Sudbury.
The Police Assistance Award is presented to a citizen of Greater Sudbury to recognize the unselfish assistance rendered to aid another person.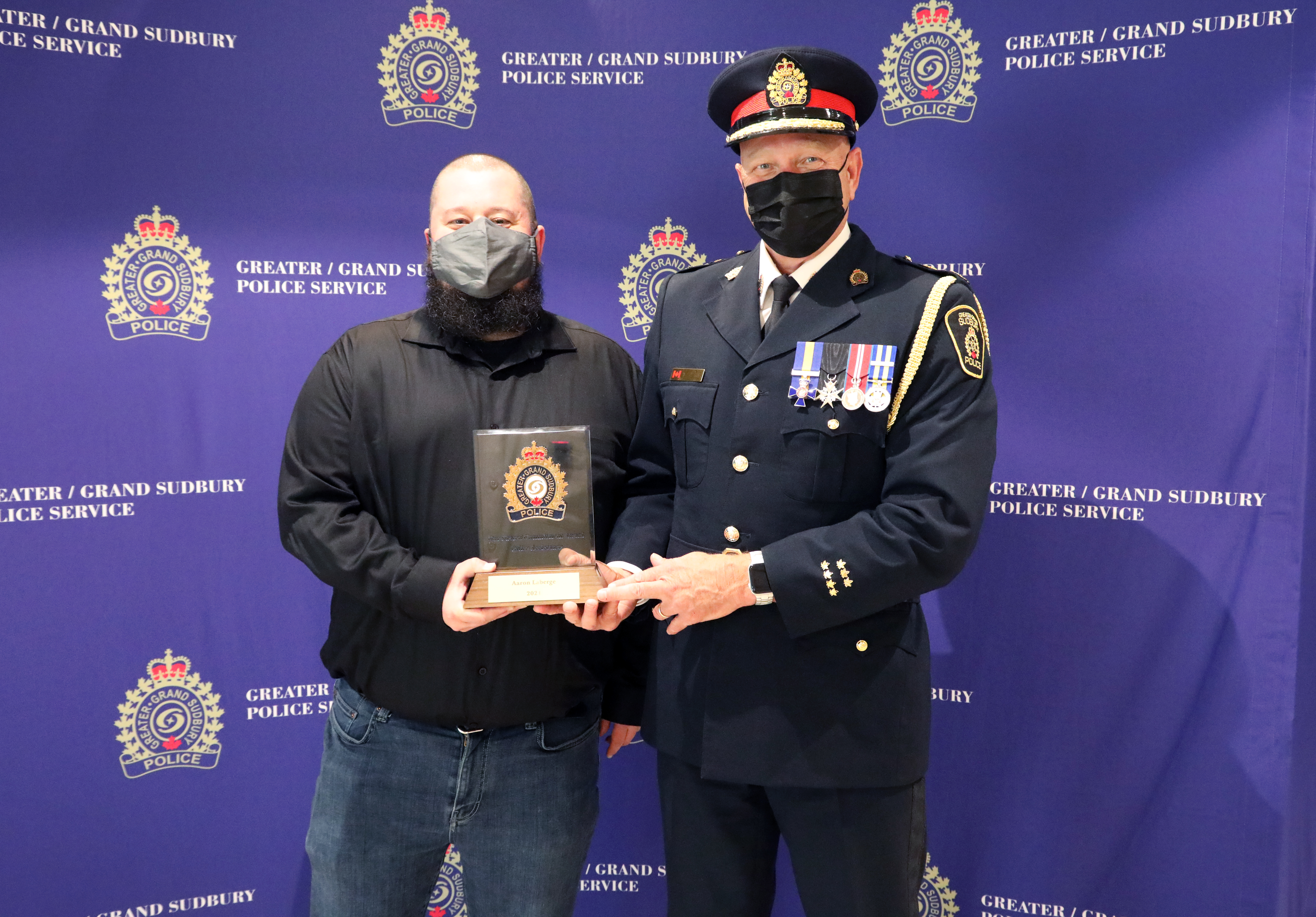 Around 10:45 p.m. on February 9th, 2020, Police were called in relation to a Weapons complaint in Greater...
Posted on Thursday, October 14, 2021 11:21 AM
Congratulations to Marina Leblanc, the deserving recipient of our 2021 Karrie Burke Young Women in Policing Bursary.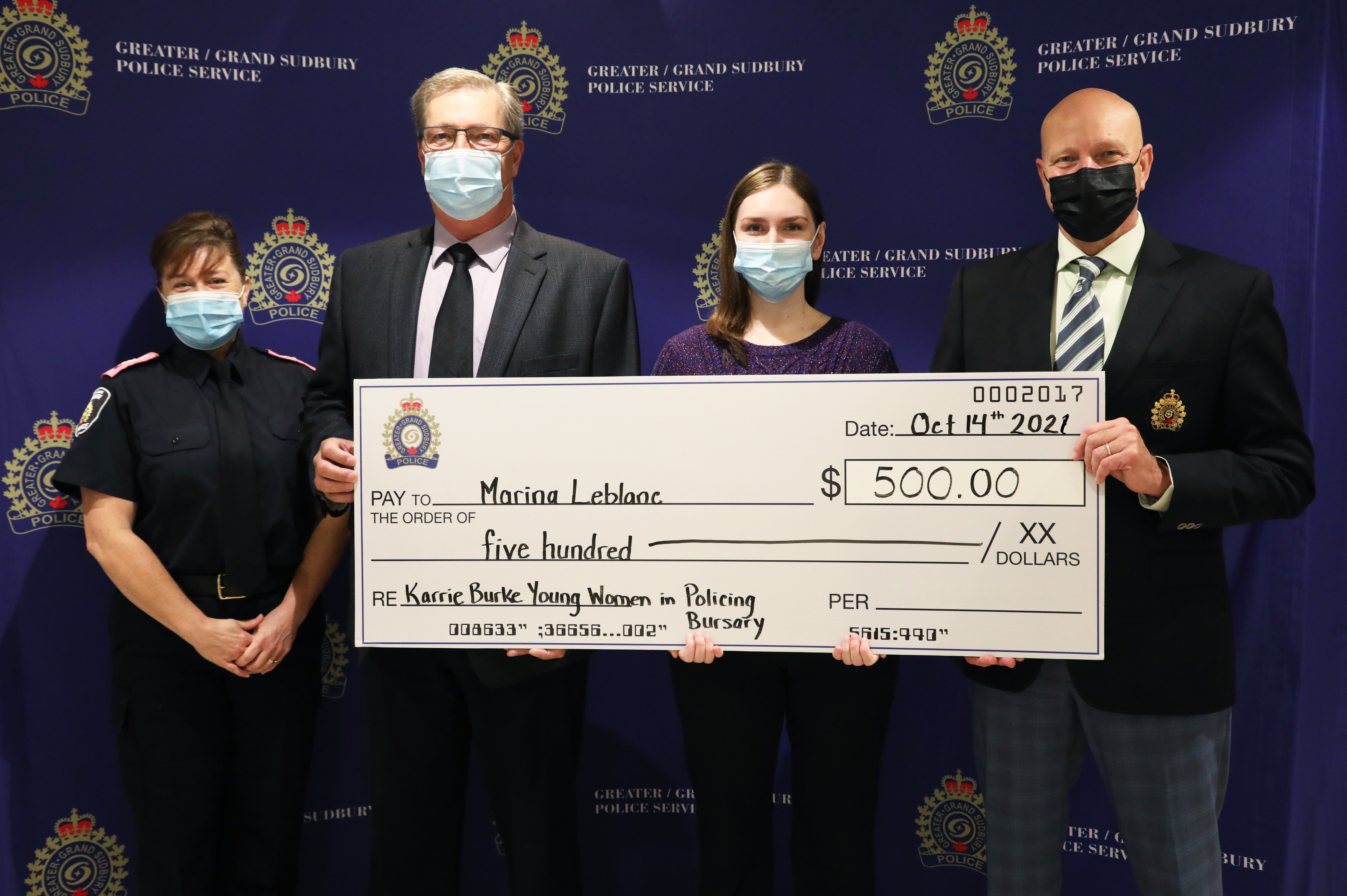 Marina has wanted to be a police officer since she was 12 years old. On her path to pursuing a career in policing, Marina has read books and manuals, gone on police ride-alongs, met with officers, attended numerous recruiting events, visited policing museums and watched policing-related TV programs. Her favourite motto is from CTV Flashpoint – "Connect, respect and protect."
Marina...