In preparation for this year's Greater Sudbury Polar Plunge, we're asking Greater Sudbury youth to participate in our 2023 Polar Plunge contests.
Poster Contest: For students in Grades 1-6
Winner of the 2022 Poster Contest: Congratulations, Charleigh!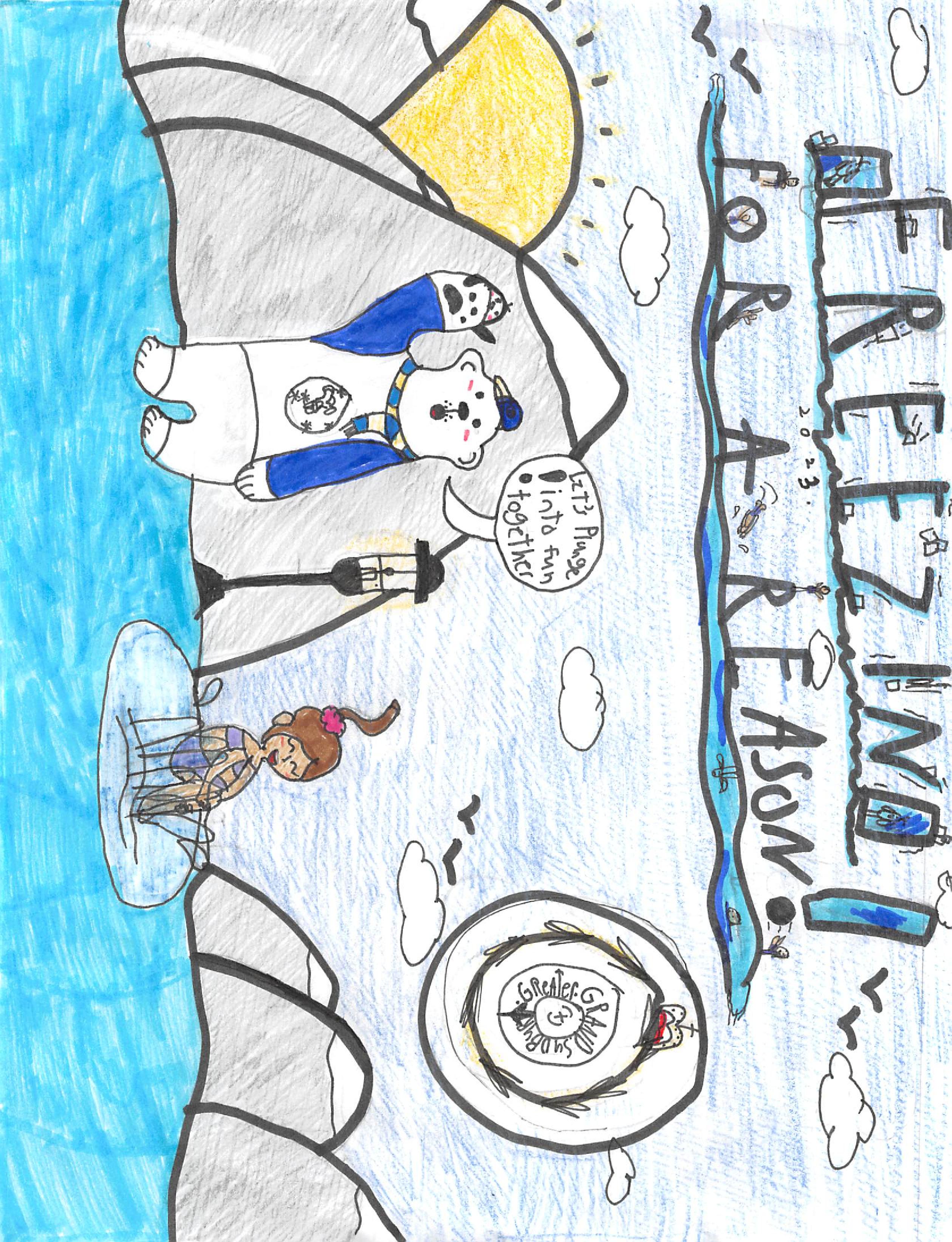 Guidelines
Poster must be drawn on 8 1/2" x 11" white paper horizontally
Each poster must portray "Plungee" the polar bear mascot (please see the image below as an example)
Students may use crayons, paint, coloured pencils or markers. No highlighters, photos or computer graphics are permitted.
Students must work on posters individually; otherwise posters will be disqualified.
Only original artwork will be accepted (i.e. no trade-marked or copyright materials).
How to Submit
Please scan and email your poster to: polarplunge@gsps.ca by March 31st, 2023
Please include the student's name, age, school, teacher's name, parent/guardian's name and contact number.
Winners will be contacted for the original poster to be used for the 2024 Polar Plunge Poster Contest promotion.
The first 50 entries will win a voucher for a Teen Burger courtesy of A&W and a voucher for a small cone from Dairy Queen
Prizes
1st Prize: $100.00 gift card Ultimate Dining, $30.00 gift card to Dairy Queen & Sudbury Wolves Hockey Jersey
2nd Prize: $75.00 gift card Foodtastic & $25.00 gift card to Dairy Queen
3rd Prize: $50.00 gift card Foodtastic & $20.00 gift card to Dairy Queen
Photo Contest: For students in Grades 7 to 12
Photo theme: "Winter in the Big Nickel"
How to Submit
Please attach your photo to an email and send the email to polarplunge@gsps.ca by March 31st, 2023
Please include the student's name, age, school, teacher's name, parent/guardian's name and contact number.
Winners will be contacted
The first 50 entries will win a voucher for a Teen Burger courtesy of A&W and a voucher for a small cone from Dairy Queen
Prizes
1st Prize: $100.00 gift card Ultimate Dining, $30.00 gift card to Dairy Queen & Sudbury Five Basketball Jersey
2nd Prize: $75.00 gift card Foodtastic & $25.00 gift card to Dairy Queen
3rd Prize: $50.00 gift card Foodtastic & $20.00 gift card to Dairy Queen
Back to Search