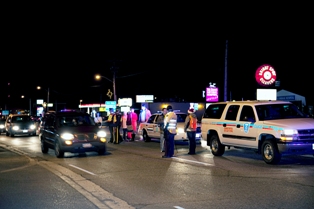 The Greater Sudbury Police Service Traffic Management Unit implemented the 12-Month High Visibility Program in January 2012 to address a variety of traffic related concerns in the Sudbury area. Each month the Traffic Management Unit addresses specific issues through education and enforcement strategies.
During the month of December 2015, Traffic Management Unit officers concentrated on impaired driving by conducting R.I.D.E enforcement throughout the Holiday season of December and New Year's Eve.
This Project was made possible by a grant from the Ministry of Community Safety and Correctional Services.
Our initiative included the promotion of Community Partnerships with Operation Red Nose and the Action Sudbury's Red Ribbon Campaign. Our relating Media Releases were aimed at educating the public of the true human cost of impaired driving and our 2015 results reflect that this information is creating awareness where the majority of drivers made the right choice not to drink and drive.
The Greater Sudbury Police Service Traffic Management Unit and Patrol Operations officers will continue to target persons who choose to drink and drive by setting up R.I.D.E at various times of the day and locations throughout the City.
| | | |
| --- | --- | --- |
| | 2015 | 2014 |
| Vehicles Checked | 7941 | 7680 |
| Approved Screening Device Demands for Alcohol | 65 | 75 |
| Standard Field Sobriety Test | 4 | 6 |
| 3,7,30 Day Licence Suspension | 12 | 10 |
| 90 Day Automatic Drivers Licence Suspensions | 2 | 5 |
| Impaired / Over 80 charges | 2 | 6 |
| Provincial Offence Notices Issued | 143 | 142 |
| Licence Classification G1 or G2 with Alcohol Charges | 0 | 1 |
| Criminal Code Charges | 0 | 6 |
| Liquor Licence Act Charges | 0 | 0 |
In addition to the above chart, officers on general patrol charged 4 drivers with impaired related offences in 2015 and 3 drivers in 2014
Attachments
Back to Search