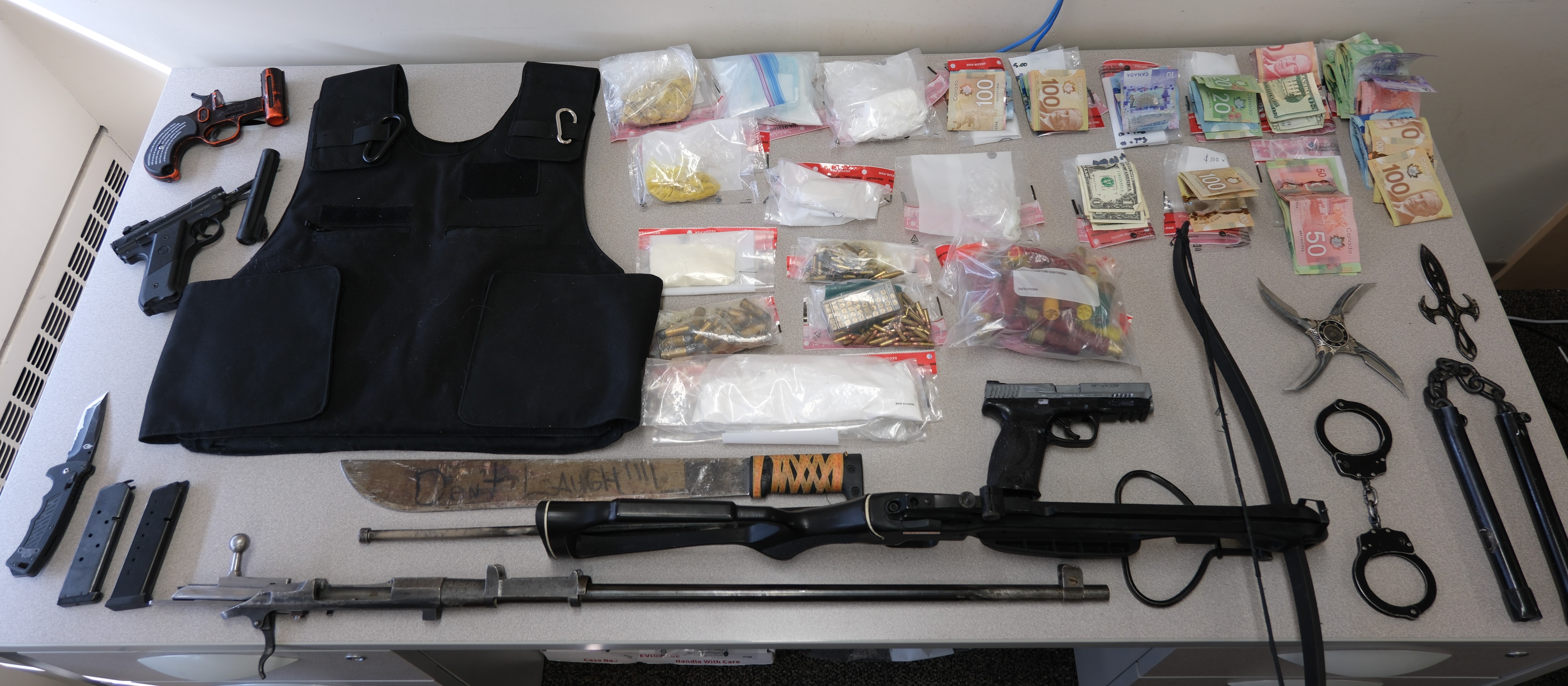 This summer, Detectives from the Greater Sudbury Police Service Drug Enforcement Unit (DEU) began an investigation into individuals believed to be trafficking illicit drugs in Greater Sudbury.
Shortly before 5:00 a.m. on August 30, 2023, members of the Emergency Response Unit (ERU) along with members of the Integrated Crime Section (ICS) conducted a search warrant at a residence on Bulmer Avenue.
In total, officers seized over 135 grams of Fentanyl, over 80 grams of Cocaine, a handgun, a sawed-off shot gun, various weapons, a bullet-proof vest, numerous rounds of ammunition and over $3,000 in cash. The estimated street value of the drugs is over $62,500. Officers also recovered two stolen mountain bikes valued at over $15,000.
As a result of the investigation, 39-year old, Rylee Noble, 39-year old, Steven Vucenovic, 41-year old, Taylor Mackenzie, 48-year-old, Martin Owen and 40-year-old, Rebecca Puris have been charged with the following offences under the Criminal Code of Canada and the Controlled Drugs and Substances Act (CDSA);
Possession of a controlled substance for the purpose of trafficking x2
Possession of a weapon for a dangerous purpose
Unauthorized possession of a firearm x2
Careless storage of a firearm x2
Possession of a restricted firearm with ammunition
Tampering with serial number
Possession of property obtained by crime over $5,000
The individuals appeared in bail court on August 30, 2023 and were remanded into custody. They will appear in court today, August 31, 2023.
The GSPS Drug Enforcement Unit of the Integrated Crime Section remains committed to focusing its efforts on major crime operations that pose a direct and elevated threat to the safety, security and wellness of our community. The Integrated Crime Section aims to identify and disrupt organized crime in Greater Sudbury through innovative technology, collaborative partnerships and traditional Police work resulting in the arrests of those involved, holding them accountable for their criminal activities and the seizure of illegal drugs, prohibited firearms and proceeds of crime.
Back to Search