Although we could not gather in person this year for the Community and Police Awards Gala, we would still like to formally recognize members of our Service and of the Public who have had a direct impact on community safety and well-being in Greater Sudbury.
Over the next two months, we'll be sharing the recipients of each respective award on our social media channels.
Today, we present the Police Community Leader Award to Kevin Powell.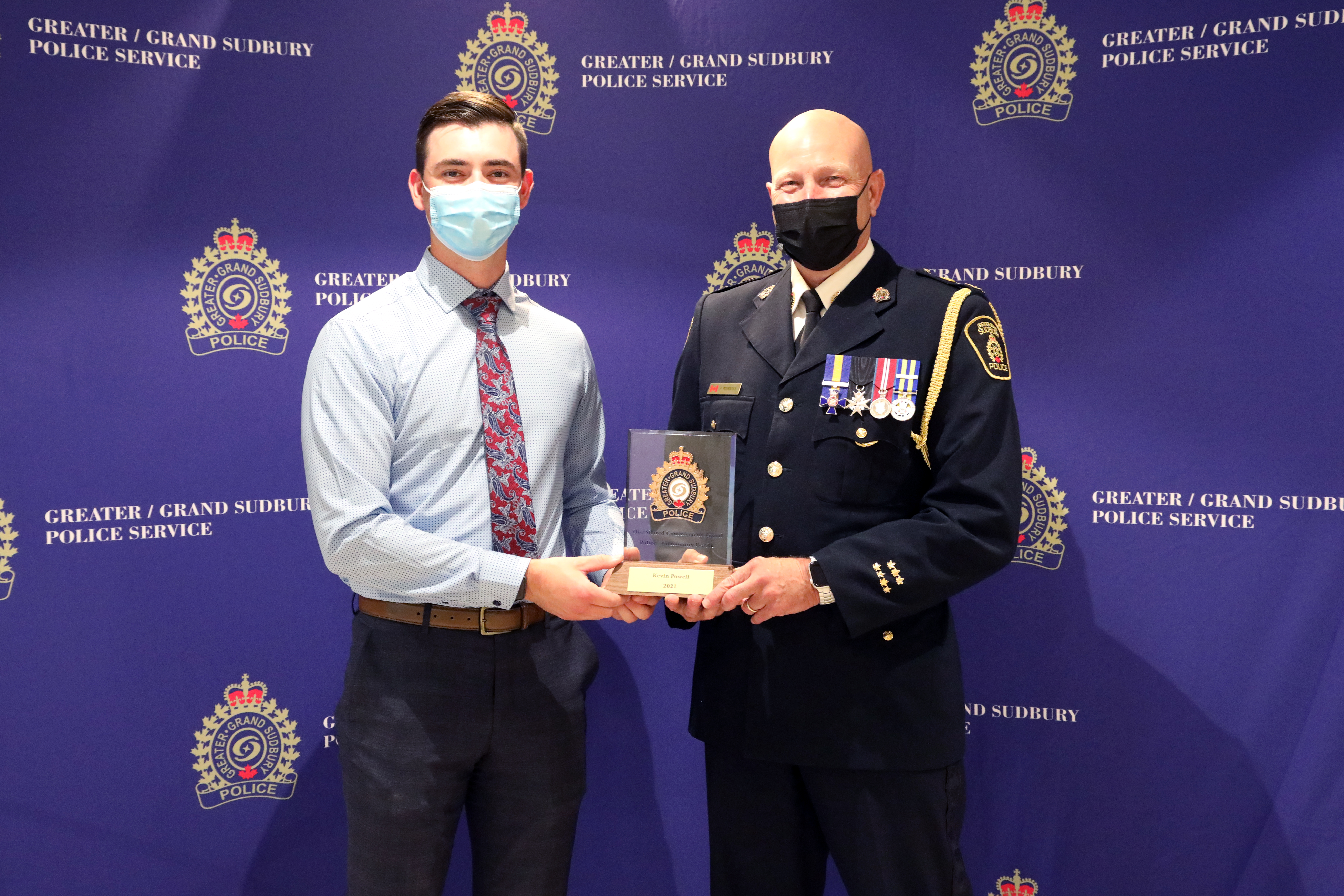 The Police Community Leader Award is presented to a leader in the City of Greater Sudbury in recognition of unselfish assistance provided to the Police Service or for an initiative that has made a positive impact on the image or effectiveness of the Police Service.
On the evening of November 17, 2020, off-duty Paramedic Kevin Powell was one of the first people to arrive on scene of a tragic three vehicle collision on Elm Street near Big Nickel Mine Road.
Upon his arrival, Kevin realized that two other off-duty Paramedics were among the people who had stopped when the collision occurred. Realizing the dangers of the scene and the fact that there was glass and fuel all over the roadway, Kevin directed bystanders to safety and had them begin to search the ditches along Elm Street in case there were individuals ejected from the involved vehicles.
Kevin immediately took charge of the scene and attended the vehicle that had sustained the most damage. Unfortunately, he found the driver deceased inside of the vehicle. He then made his way to the second vehicle, where he found the driver unconscious with no vital signs. Kevin began life saving measures and assisted Firefighters as they extricated the driver from the vehicle.
Once the driver was safely removed from the vehicle, Kevin began CPR and continued to do so in the ambulance on the way to the hospital. Unfortunately, despite the efforts of all of the First Responders involved, the driver was pronounced deceased at the hospital. The driver of the third vehicle sustained minor injuries and made a full recovery.
Kevin's quick thinking and immediate actions ensured the safety of bystanders and provided much needed assistance to Paramedic and Fire crews who attended the scene.
Congratulations Kevin Powell – this year's recipient of the Police Community Leader Award.
Back to Search