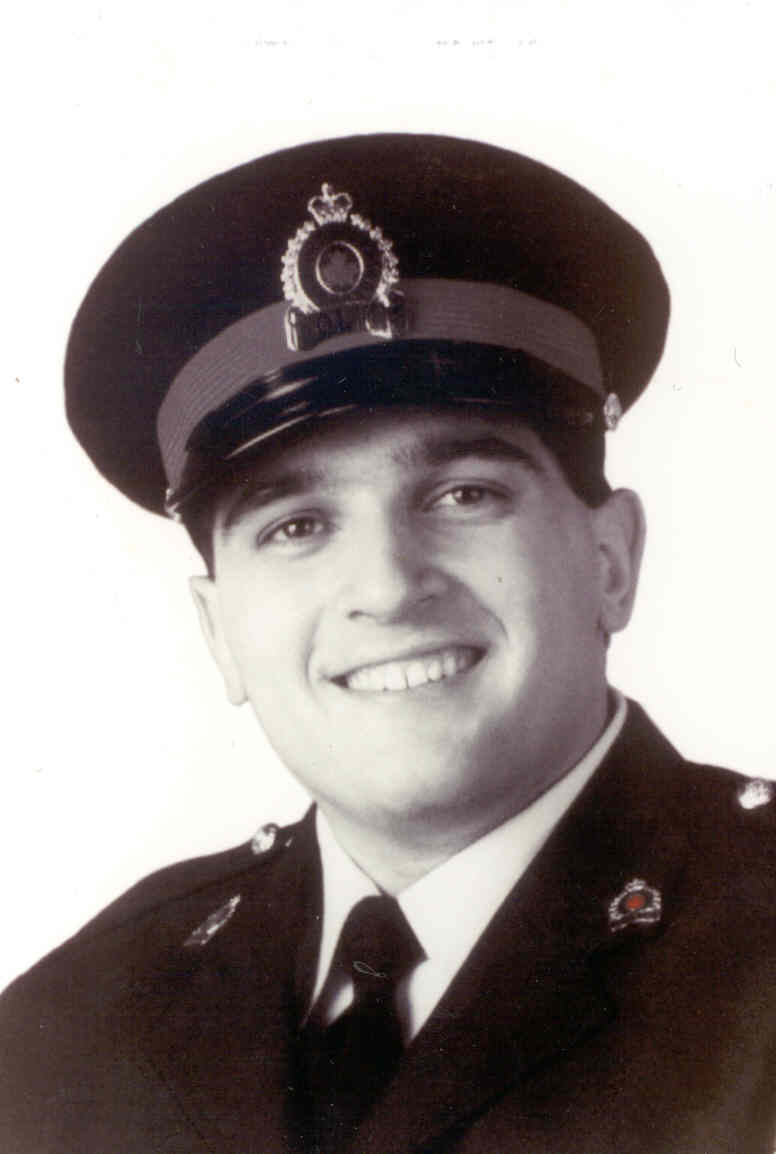 In the early morning of October 7, 1993, while on general patrol, Constable Joseph MacDonald conducted a routine traffic stop. Two male occupants exited the vehicle and a violent physical altercation developed, which resulted in the exchange of gunfire. Constable MacDonald, fatally shot, lay beside his empty service revolver.
The two male suspects fled the area in a vehicle pursued by police. Subsequently a foot chase and further altercation ensued where both suspects were taken into police custody. Peter Paul Pennett and Clinton Victor Suzack were both charged and convicted of first-degree murder receiving life sentences without parole for 25 years. Constable MacDonald was survived by his wife and two children.
A Carleton University graduate, Joey was Captain of the Ravens football team and Ontario All­Star. His love for sports, children, and this city gave him the ability to engage youth in many areas. Joey coached local high school football teams and during his five-year career as a Uniform Constable, he was an active member with the Police Buddy Program and the Ryan Heights Community Based Policing Project.
Following Joey's tragic death, a state of the art digital encryption radio system was installed to ensure private and confidential radio communication. As well, the decision to transition from the revolver to the pistol for police use province-wide was initiated by government.
Joey's impact on our community will live on through the Joe MacDonald Youth Football League which was named in his honour in 1994 to recognize his contributions to Sudbury. He left a lasting legacy and has had many honourable tributes in his name.
In 2002, the Ministry of the Solicitor General and Correctional Services fund for Public Safety Officers' Survivors was renamed Constable Joe MacDonald Public Safety Officers' Survivors Scholarship fund in his honour.
In 2006, the Junction Creek Bridge, located at the Highway 17 and Municipal Road 55 Interchange, was named after MacDonald, under the Highway Memorials for Fallen Police Officers Act, 2002.
On October 18, 2008, the Joe MacDonald Memorial park officially opened. Members of the police service, the community, and Joey's family gathered on the Lasalle Boulevard extension across from Gordon Street to dedicate a small park in his honour.
On September 2, 2019 the Service's Fitness Facility at Police Headquarters was named the Joe MacDonald and Rick McDonald Fitness and Wellness Centre.
In order to ensure his memory, his legacy, his character and his values live on the Service introduced the Constable Joseph MacDonald Memorial Award, which is presented to a Police Service member who has demonstrated outstanding service to youth through official duty or through community involvement, or both.
Today, at 11 :00 a.m., we will have a moment of silence to remember Joey, our good friend and colleague, for his outstanding contributions to the Greater Sudbury Police Service and the police profession.
Back to Search