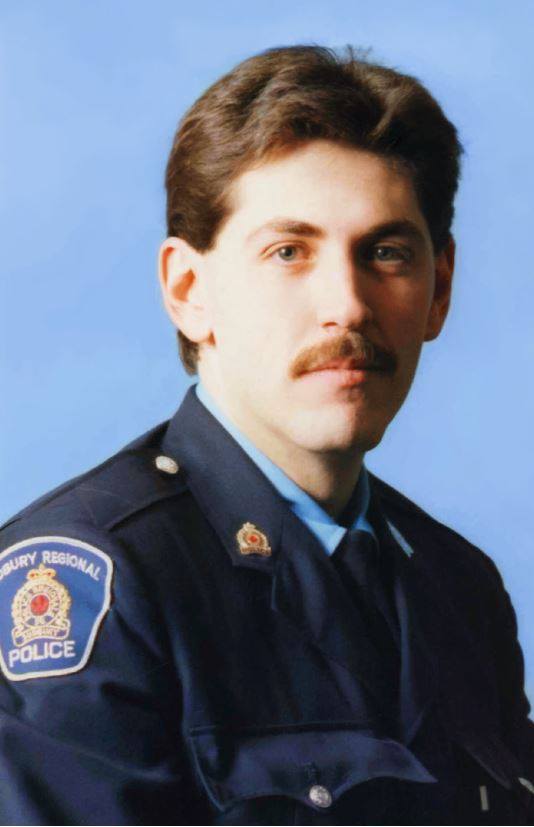 Today, July 28, 2021, marks 22 years since the death of Sergeant Richard McDonald.
While deploying a spike belt across a roadway on July 28th, 1999, Sgt. Rick McDonald was fatally injured when he was struck by a stolen vehicle that was fleeing police in the early hours of the morning. Sgt. McDonald was a 12-year veteran of the Service. He was survived by his wife, mother, brothers and sister.
Rick's 12-year career with the Sudbury Police began in 1987 and saw him assigned to many departments including Uniform Patrol, Criminal Investigations Division, and the Traffic Management Unit. Throughout his career, Rick's determination to fight for Officer Rights and his strong opinions were put to good use as he spent many years on the Board of the Sudbury Police Association which included two terms as President. At the time of his death, Rick was serving as President of the Police Association.
Following his death, The Rick McDonald Memorial Act (Suspect Apprehension Pursuits) 1999 was enacted which amended the Highway Traffic Act by instituting stiffer penalties for escape Police by flight offences. In 2000, Federal Legislation was passed where certain behaviours or actions while operating a motor vehicle would constitute offences under the Criminal Code. Now, individuals face a number of consequences if convicted of motor vehicle-related offences under the Criminal Code of Canada such as a driving prohibition, fines, court ordered imprisonment, as well as, penalties under the Highway Traffic Act.
On August 5th, 2000, the Rick McDonald Memorial Park was named in Azilda to celebrate and remember Rick's love for baseball.
In 2006, the bridge located at the Highway 17 and 69 interchange was named after McDonald, under the Highway Memorials for Fallen Police Officers Act, 2002, which permit the naming of highway bridges and other structures on the King's Highway in memory of Police Officers who have died in the line of duty.
In May 2015, in his honour, the Service introduced the Sergeant Richard McDonald Memorial Award, which is presented to a Member of our Police Service in recognition of their enthusiasm and positive attitude that promotes a culture that significantly motivates Members, fosters team spirit and supports Our Shared Commitment to Community Safety and Well-being.
There is now an annual Rick & Dan McDonald Memorial Child and Family Foundation Annual Golf Tournament. All proceeds from these tournaments are donated to local youth charities, as well as, establishing a bursary in Rick's memory. This charity reaffirms Rick's commitment to youth in our community.
In September 2019, our fitness facility at Police Headquarters was renamed the Joe MacDonald and Rick McDonald Fitness and Wellness Centre. Throughout their lives Joe and Rick promoted healthy active living through physical fitness and recreational sports, so it was only fitting that this facility be named after them.
Rick, our "Mon Chum", is remembered for his tall stature, his great sense of humour, and his strong, infectious personality.
Heroes in Life, not death. Never forgotten.
Back to Search