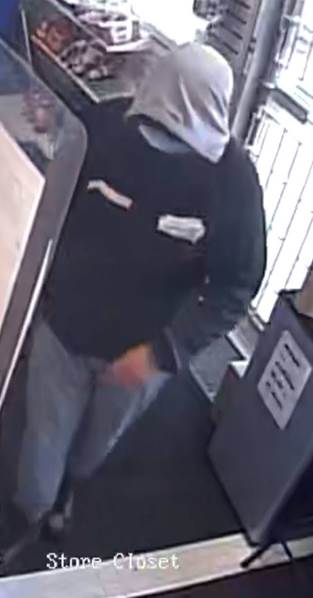 Just after 8:45 a.m. on May 25, 2021, a man entered a gas station on Main Street East in Chelmsford, covered his face and approached the cash register. He demanded money from the employee and fled the store with an undisclosed amount of cash and multiple cartons of cigarettes.
Officers attended the area including one of our K9 Units in order to conduct a dog track; however the man was not located at the time of the track.
The man is described as being around 6'0" tall, 180 lbs., and was wearing a hat, black jacket, grey hoody and grey sweat pants at the time of the incident.
The store's video surveillance equipment did capture footage of the man; however the man concealed his face from the cameras during the interaction. Images of the man at the time of the incident are attached.
Anyone with information related to this incident or who knows the identity of the man involved in the Robbery is asked to contact our Criminal Investigation Division at 705-675-9171 or Crime Stoppers at 705-222-8477.
Back to Search