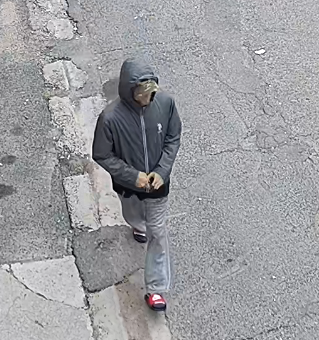 Just before 2:40 p.m. on July 1, 2021, Officers responded to an Assault with a Weapon in the area of Memorial Park. Information provided was that a man had stabbed another man and fled the scene on foot.
Upon arrival, Officers located a man in Memorial Park who had sustained what was believed to be a stab wound to his arm. The 34 year old man was transported to hospital by City of Greater Sudbury Paramedic Services with a serious but non-life threatening injury.
Additional information provided was that the two men were involved in a physical altercation in the parking lot of the Tim Horton's on Cedar Street shortly before the stabbing occurred in Memorial Park. This is believed to be a targeted and isolated incident.
The man is described as being White, between 6'0"-6'2" tall, with a slim build and was wearing a grey zip-up and baseball cap at the time of the incident (image attached).
Anyone with information related to this incident or the identity of the involved individual is asked to contact us at 705-675-9171 or Crime Stoppers at 705-222-8477.
Back to Search