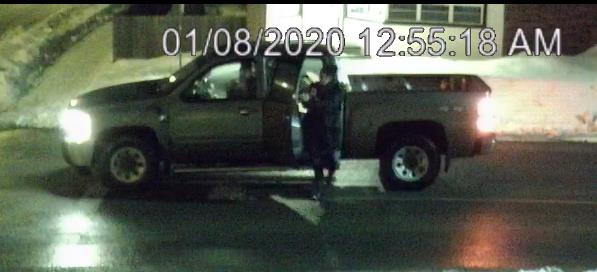 At 12:55 a.m. this morning, Wednesday, January 8, 2020, we received a call regarding a suspicious incident on Frood Road near Jean Street where a woman was seen getting out of a vehicle at the intersection and having a verbal argument with someone inside the vehicle before walking away on Frood Road.
A man was seen exiting the passenger side of the vehicle and chasing after the woman while the driver of the vehicle put the truck in reverse in order to catch up to them. The man was then seen pushing the woman back into the truck. The driver of the truck then drove down Frood Road towards Downtown with all three individuals inside.
The vehicle is described as being a Grey or Silver pick-up truck (please see attached images).
The driver of the vehicle is described as being a White man, approximately 30 years old with very short (buzz cut) hair, a short beard and was wearing a Red and Black plaid jacket at the time of the incident.
The passenger that chased the woman is described as being a White man, approximately 30 years old, clean shaven with dark eyebrows and was wearing a Black and White toque, a Black skidoo style jacket with White trim and a reflective vest.
The woman is described as being approximately 20 years old with dark hair and was wearing a toque, a dark bomber style jacket with fur around the hood and dark pants.
We are looking to check on the well-being of the woman and we are requesting that anyone who may know the identity of the woman or the individuals involved in the incident contact us immediately by calling 705-675-9171 extension 2331. Anyone with information who wishes to remain anonymous can call Crime Stoppers at 705-222-8477 or can submit a tip online at www.sudburycrimstoppers.com.
Back to Search