Posted on Thursday, March 10, 2016 10:45 PM
Update:
This evening a 29 year old Sudbury man was arrested for both of these robberies. He was identified and located through investigation by the Break, Enter and Robbery (B.E.A.R.) Unit and arrested with assistance from Canine and Tactical Officers.
Original Release:
On Wednesday the 9th of March 2016 at approximately 7:20 pm Police were dispatched to a reported robbery at the A&L Convenience Store in Sudbury. The lone person entered the store threatening the clerk with a weapon. The culprit...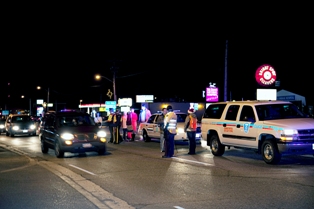 Posted on Tuesday, January 05, 2016 11:15 AM
The Greater Sudbury Police Service Traffic Management Unit implemented the 12-Month High Visibility Program in January 2012 to address a variety of traffic related concerns in the Sudbury area. Each month the Traffic Management Unit addresses specific issues through education and enforcement strategies.
During the month of December 2015, Traffic Management Unit officers concentrated on impaired driving by conducting R.I.D.E enforcement throughout the Holiday season of December and...