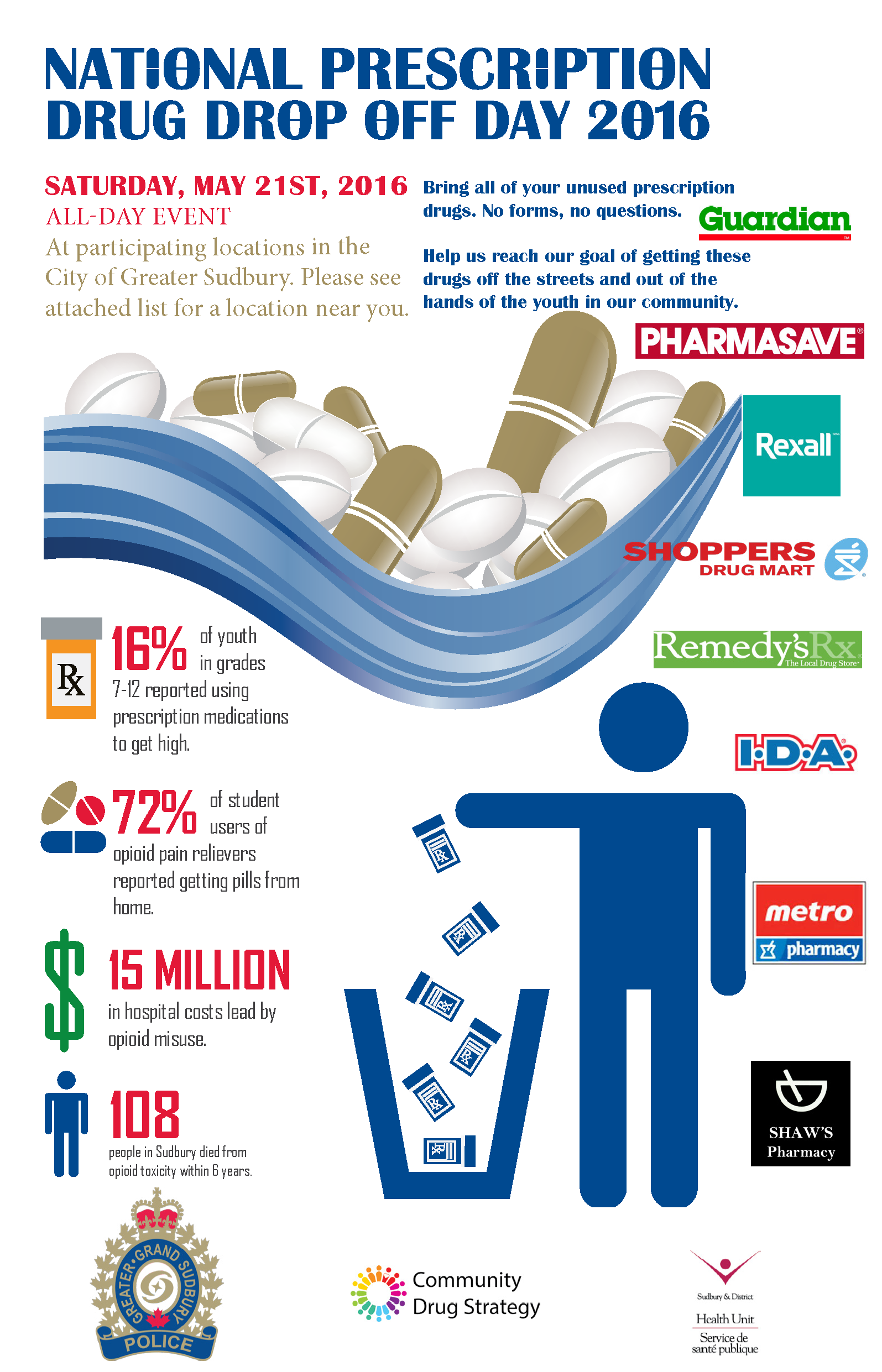 Posted on Thursday, May 19, 2016 12:15 PM
Do you have expired, unwanted, and unused prescribed medication in your home?
The misuse and abuse of prescription medication has become a public safety issue for communities and police services across the country, who are working together to draw attention to this concern by fully supporting the National Prescription Drug Drop Off Day on Saturday May 21.
The National Prescription Drug Drop Off Day is a one-day initiative supported by the Canadian Association of Chiefs of Police, the Ontario...
Posted on Tuesday, April 12, 2016 08:00 PM
**Further investigation on scene has determined that the child was not actually on the school bus but he was walking along the side of the road when he was struck and the driver of the school bus was a witness who stopped at the accident scene**The Greater Sudbury Police Service is currently on scene at a collision wherein an 11 year old child exited a school bus and was struck by a vehicle. The exact extent of injuries are not known at this time. This occurred on Regional...
Posted on Saturday, March 26, 2016 10:00 AM
It's That Time Again!
The Greater Sudbury Police Service is holding its 11th Annual Law Enforcement Torch Run Toll.
To date, the Toll Booth has raised in excess of $225,000 and we are aiming for another record year. The Toll will be held on Saturday, Mar 26th 2016, from 9:30 am until 5:00 pm. Uniformed officers, auxiliary officers, police foundations students, Special Olympians and volunteers will be working at all exits of the Riocan and Silver Hills Centers.
The...
Posted on Thursday, March 10, 2016 10:45 PM
Update:
This evening a 29 year old Sudbury man was arrested for both of these robberies. He was identified and located through investigation by the Break, Enter and Robbery (B.E.A.R.) Unit and arrested with assistance from Canine and Tactical Officers.
Original Release:
On Wednesday the 9th of March 2016 at approximately 7:20 pm Police were dispatched to a reported robbery at the A&L Convenience Store in Sudbury. The lone person entered the store threatening the clerk with a weapon. The culprit...
Posted on Tuesday, March 01, 2016 10:45 AM
Update
Alias Durocher was located in good health. Thank you for your assistance in located this young person.
Original Release
The Greater Sudbury Police Service is requesting the public's assistance in locating a 15 year old male named Alias Durocher. He was last seen by family on February 2th, 2016.
Alias is described as 5'10", thin build weighing 130 pounds with short black hair and green eyes (photo attached).
If you have any information please contact the Greater Sudbury Police Service...