Posted on Thursday, November 12, 2020 02:19 PM
Just after 7:15 a.m. on October 15, 2020, we received a call from a business owner on Churchill Avenue after it was discovered that the business had been broken into overnight. A window of the business had been smashed and when the owner entered the business it was obvious that the business had been ransacked. Various items had been taken including cigarettes, drinks, electronics, scratch tickets and money from the cash register totaling approximately $10,000.
Officers arrived on scene and...
Posted on Monday, November 09, 2020 10:25 AM
At 8:05 a.m., we received a call from the Principal at Sudbury Secondary School regarding a potential threat to the school.
The school had received a bomb threat via email and immediately contacted Police.
The school initiated its protocols and students and staff were safely evacuated.
Officers arrived on scene in order to determine the credibility and validity of the potential threat.
Officers, with the assistance of staff, completed a thorough sweep of the school and did not locate anything suspicious.
Shortly...
Posted on Saturday, November 07, 2020 01:24 PM
On October 28, 2020, an Officer from our Central Community Response Unit attended Cambrian College in relation to a hate-bias incident after a staff member found offensive stickers on campus on October 25, 2020. Cambrian College staff immediately removed the stickers and contacted Police.
After the initial Police response, the incident was assigned to a Detective in our Criminal Investigation Division to conduct a thorough investigation into the matter.
On November 5, 2020, we received a...
Posted on Friday, November 06, 2020 03:56 PM
Background
The Opioid Crisis consistently demonstrates the devastating effects of Opioids on our community, the province and the nation due to accidental overdoses.
In November of 2019, the Greater Sudbury Police Service Integrated Crime Section (I.C.S.) working in collaboration with the Ontario Provincial Police (O.P.P.) Organized Crime Enforcement Bureau (O.C.E.B.) commenced multiple investigations intending to disrupt drug trafficking operations entering and operating within the City of Greater...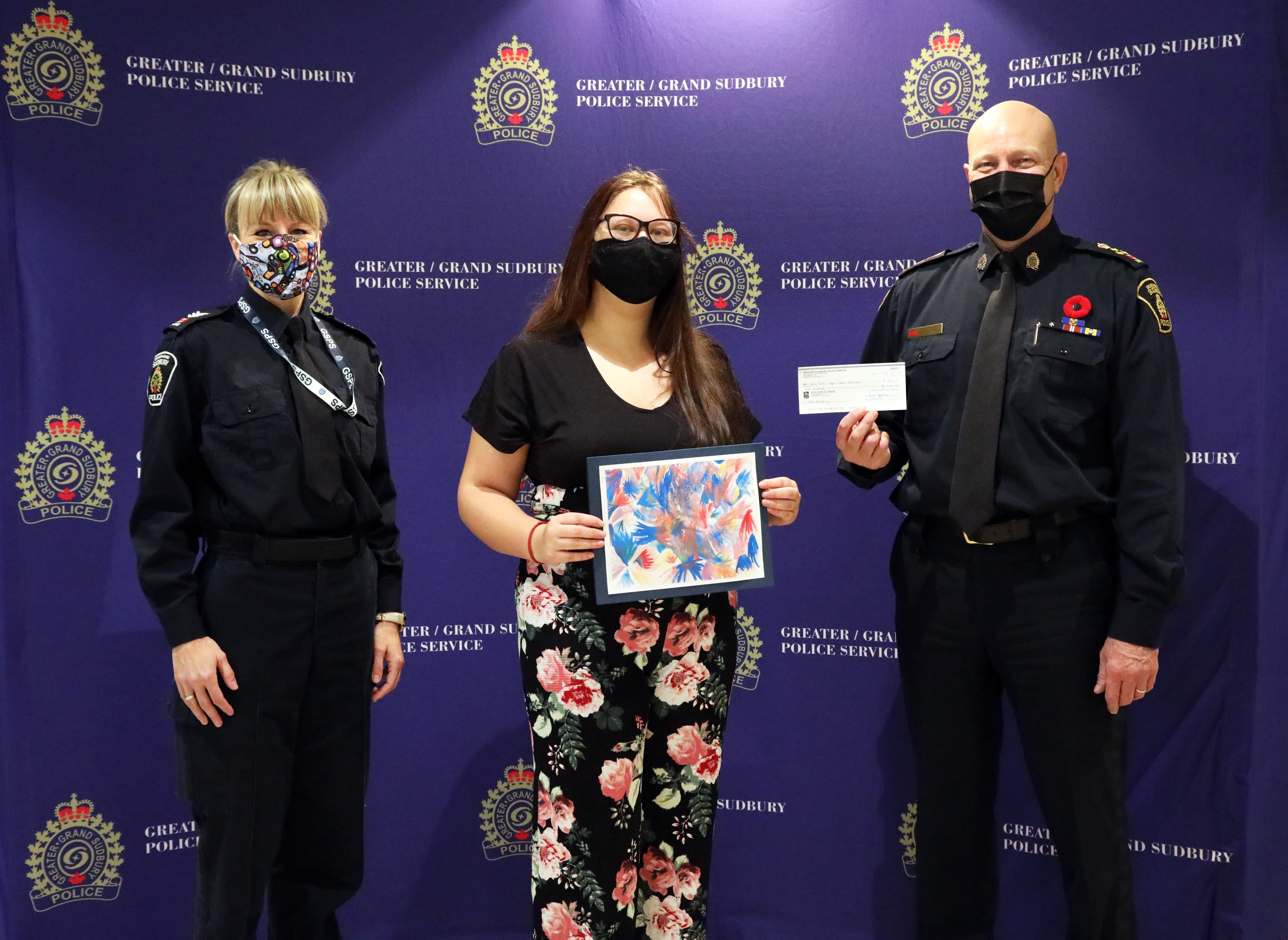 Posted on Friday, November 06, 2020 12:21 PM
"Wings of Community", painted by Hayley-Faith Organ Gerow-Beausoleil.
"Each colour represents someone in our community. The colours overlap to represent that even with everyone's differences and similarities, we are all still part of one community. Together we create a beautiful and diverse community." - Hayley
Today, on behalf of our GSPS
Diversity Advisory Committee
, we had the pleasure of presenting Hayley-Faith Organ Gerow-Beausoleil with a $500 bursary, to recognize Hayley's outstanding...