Posted on Tuesday, September 22, 2020 08:45 AM
Around 5:35 p.m. on Monday, September 21, 2020, we received a Weapons complaint outside of an establishment on Lorne Street in Greater Sudbury.
Prior to receiving the call, a man approached a woman while she was jogging on Lorne Street. The man exposed himself to her causing her to run from him.
The same man then approached two people playing basketball on Logan Street. The man began yelling at them and when confronted by one of the individuals the man pulled out a knife and began to threaten the...
Posted on Friday, September 18, 2020 03:48 PM
Although cannabis possession and production has been legalized, it is regulated and it has always remained a criminal offence to produce, sell, distribute, import/export and use cannabis outside of the parameters of both the provincial and federal legislation, specifically the Cannabis Act.
It remains the role of Police to enforce and investigate criminal cannabis incidents and focus on the apprehension and disruption of those who participate in a criminal enterprise...
Posted on Thursday, September 10, 2020 08:43 AM
Please note due to COVID-19, the Release of Information office is open by appointments only. To request a Police Report, please call 705-675-9171 extension 6323. For a Freedom of Information Request, please call 705-675-9171 extension 6248.
Posted on Tuesday, September 08, 2020 08:52 AM
Shortly after 6:30 p.m. on Saturday, September 5, 2020, police responded to a disturbance call on Antwerp Avenue in Sudbury. Information provided was that three individuals had been sprayed with bear mace by another man.
Moments after Police arrival, the 38 year-old man surrendered to officers. He has been charged with 11 counts of various Criminal Code offences including Assault with a Weapon, Administering a Noxious Substance and other weapons offences. He appeared in Bail Court Saturday...
Posted on Friday, September 04, 2020 01:28 PM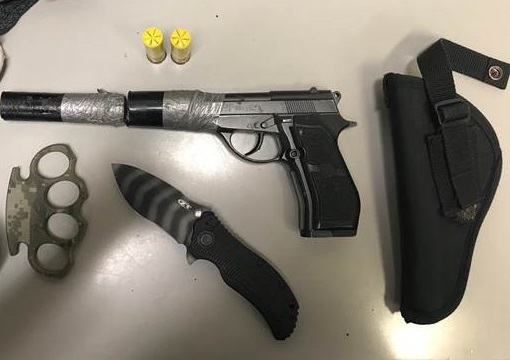 Around 8:10 p.m. on Thursday, September 3, 2020, Officers spotted an individual who was wanted for Breach of Release Orders. The Officers approached the man and the man attempted to flee from them, however he was caught a short distance away.
The Officers placed the man under arrest and searched the man finding a BB gun with a modified barrel extender that holds a shotgun shell, a large flip knife and a set of composite knuckles, as well as, what is believed to be a crack Cocaine.
38 year old Patrick...