Posted on Monday, April 27, 2020 10:56 AM
York Regional Police Hold Up Squad and members of the Greater Sudbury Police Integrated Crime Team (ICT) embarked on a Firearms offence investigation that lead to obtaining a search warrant for an address on Leslie Street.
On the evening of the 25th of April, members of the York Regional Police, GSPS ICT, with the assistance of GSPS Tactical Unit attended the address and executed the Search Warrant which resulted in the location and seizure of a loaded handgun as well as a quantity of cash and...
Posted on Monday, April 20, 2020 09:21 AM
**UPDATE**
A 25 year old man from Greater Sudbury has been arrested and charged with Extortion and Criminal Harassment in relation to this incident.
The man has been remanded into custody with a court date of April 23, 2020.
The investigation into the matter is ongoing and anyone with information related to the incident is asked to call our Criminal Investigations Division at 705-675-9171.
**ORIGINAL**
Shortly after 4:00 a.m. this morning, Monday, April 20, 2020, we received a call regarding shots...
Posted on Friday, April 17, 2020 02:12 PM
**UPDATE**
Overnight, the 39 year old driver of the pick-up truck was located, arrested and charged with the following offences under the Criminal Code of Canada;
Flight from Police
Fail to Remain
Dangerous Operation of a Motor Vehicle
The man was additionally charged with numerous Highway Traffic Act offences including;
Drive No Insurance
Drive No Licence
Expired Val Tag
Plates Not Authorized
Fail to Apply for Permit Upon Becoming Owner
He was released on an Undertaking.
**ORIGINAL**
Around...
Posted on Wednesday, April 15, 2020 03:30 PM
Today, Chief Pedersen and the entire GSPS family are pleased to welcome Taryn Michel, Indigenous Training Program Developer. Taryn is from Michipicoten First Nations, born and raised in Greater Sudbury. She worked at the N'Swakamok Native Friendship Centre for seven years as the Indigenous Family and Youth Court Worker. Taryn always wanted a career in law and made the decision to go to Law School in 2019. Her goal is to help the Indigenous community by addressing the over representation of Indigenous...
Posted on Tuesday, April 14, 2020 04:16 PM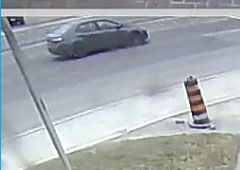 Around 3:15 p.m. on Sunday, April 12, 2020, a woman was seen standing in the parking lot of the Grotto of Our Lady of Lourdes off of Van Horne Street when a man exited the driver's seat of a parked grey/silver four-door sedan (picture attached), grabbed the woman and forced her into the car. The woman appeared to be crying once she was inside the vehicle. The man got back into the driver's seat and drove towards the downtown core with the woman in the front passenger seat.
The man is described...