Posted on Monday, November 16, 2020 11:53 AM
Just after 11:00 a.m. on November 13th, 2020, a GSPS Police Officer, Constable Thomas Van Drunen, was stopped by a GSPS Police Officer on Municipal Road 80 in Greater Sudbury.
As a result of an investigation, Thomas Van Drunen was charged with the following offences under the Criminal Code of Canada:
Operation while Impaired
Operation while Impaired – Blood Alcohol Level Concentration Equal to or Exceeds 80 mgs of Alcohol in 100mL of Blood
Van Drunen began with the Greater Sudbury Police Service as...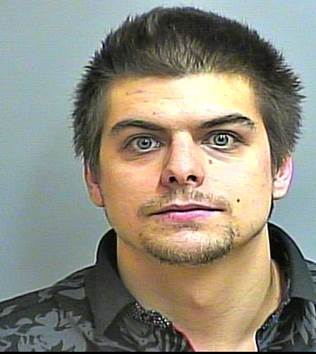 Posted on Friday, November 13, 2020 11:52 AM
The Greater Sudbury Police Service is requesting the public's assistance in locating 29-year old Tyler Thrones.
The GSPS holds an outstanding warrant for the arrest of Tyler Thrones for the following offences under the Criminal Code of Canada, in relation to an incident that occurred in Greater Sudbury in April 2020:
Conspiracy to Commit Murder X3
Extortion
Criminal Harassment
This warrant has now been upgraded to a Canada-wide warrant for his arrest.
Tyler Thrones is described as 5'10" tall,...
Posted on Thursday, November 12, 2020 02:19 PM
Just after 7:15 a.m. on October 15, 2020, we received a call from a business owner on Churchill Avenue after it was discovered that the business had been broken into overnight. A window of the business had been smashed and when the owner entered the business it was obvious that the business had been ransacked. Various items had been taken including cigarettes, drinks, electronics, scratch tickets and money from the cash register totaling approximately $10,000.
Officers arrived on scene and...
Posted on Monday, November 09, 2020 10:25 AM
At 8:05 a.m., we received a call from the Principal at Sudbury Secondary School regarding a potential threat to the school.
The school had received a bomb threat via email and immediately contacted Police.
The school initiated its protocols and students and staff were safely evacuated.
Officers arrived on scene in order to determine the credibility and validity of the potential threat.
Officers, with the assistance of staff, completed a thorough sweep of the school and did not locate anything suspicious.
Shortly...
Posted on Saturday, November 07, 2020 01:24 PM
On October 28, 2020, an Officer from our Central Community Response Unit attended Cambrian College in relation to a hate-bias incident after a staff member found offensive stickers on campus on October 25, 2020. Cambrian College staff immediately removed the stickers and contacted Police. After the initial Police response, the incident was assigned to a Detective in our Criminal Investigation Division to conduct a thorough investigation into the matter. On November 5, 2020, we received a...