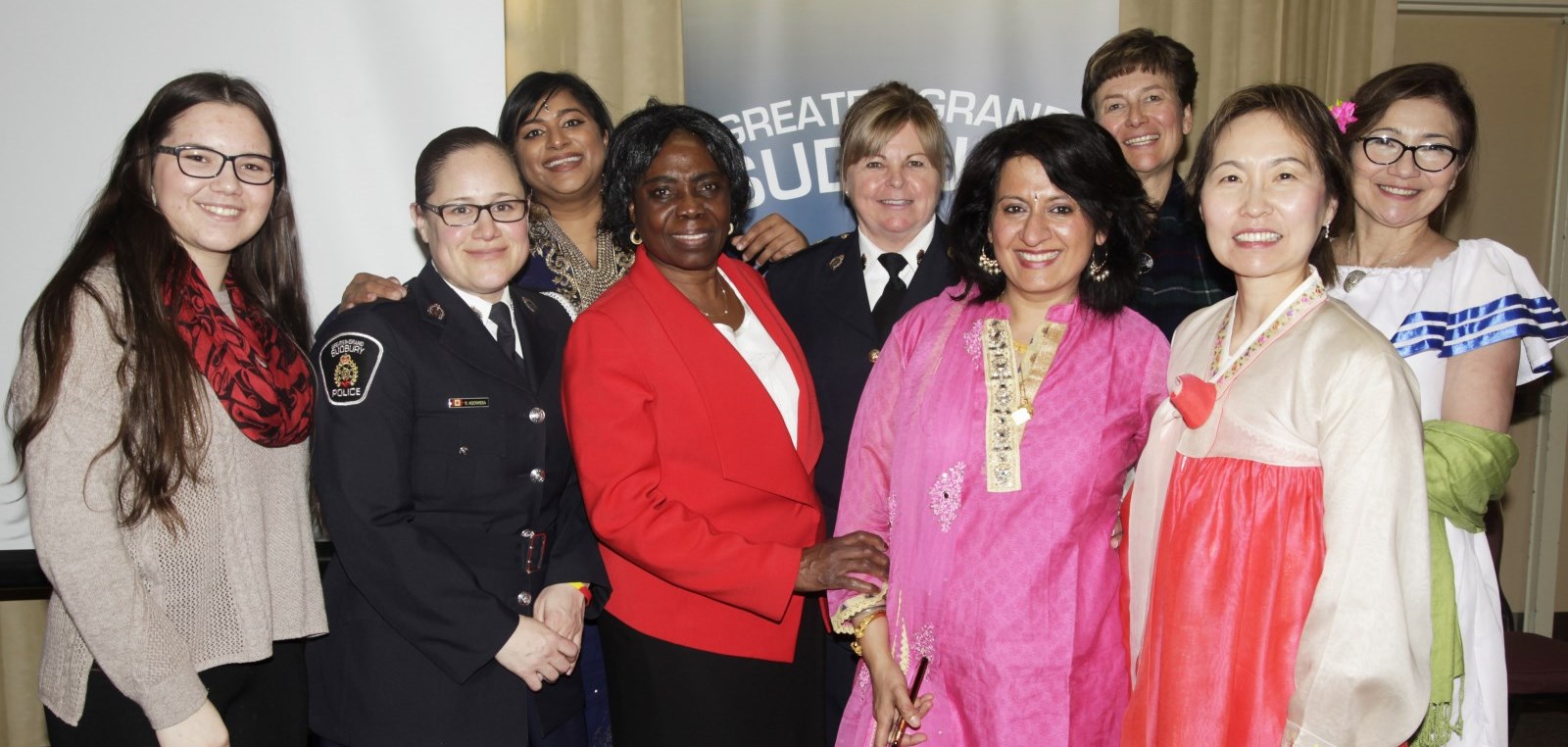 The Greater Sudbury Police Service strives to build and sustain strong partnerships and relations with community members and groups. Our goal is to ensure a diverse and inclusive approach in serving the community collectively. We are committed to listening, learning and transparency through continued engagement.
The Greater Sudbury Police Service invites applications from citizens and community organizations interested in participating on the Police Diversity Advisory Committee (DAC).
Since 1990, DAC has been providing advice and counsel to the Office of the Greater Sudbury Police Service Chief of Police with respect to matters relating to race relations and multicultural concerns/issues within the City of Greater Sudbury as it relates to policing. This year, DAC celebrates 32 years of serving as a critical link between the Police Service and the diverse communities of Greater Sudbury. We proudly celebrate our open lines of communication and strive to improve relationships in a transparent and respectful manner by better understanding cultural traditions and customs.
Diversity Advisory Committee Bursary
Sponsored by the Greater Sudbury Police Service
The Greater Sudbury Police Service would like to recognize outstanding Grade 12 student(s) who have demonstrated a commitment to diversity, inclusive practices, and cultural acceptance in their school and/or in their community. This $500 bursary is made possible through the Greater Sudbury Police Services Diversity Advisory Committee.
Diversity is defined as: Gender, education, age, employment, language, ethnicity, cultural background, family status, geographic location, country of origin, life experiences, intellectual and physical ability, social economic status, religious beliefs, and sexual orientation.
Inclusion is defined as: creating a work environment guided by fairness, respect, equality and dignity and therefore ensures the creation of strategies and mechanisms designed to address ongoing issues of diversity.
Culture Acceptance is defined as: a person's ability to respect and value diverse points-of-view, and to be open to others of differing backgrounds or perspectives. In addition, it refers to the person's ability to understand and respect the practices, customs, and norms of individuals, groups, and cultures other than their own.
Details about the bursary: The Greater Sudbury Police Service will be awarding a bursary in the amount of $500 to a grade 12 student or a group of student(s) from a secondary school in the City of Greater Sudbury. The Bursary may be used for expenses associated with post-secondary education, trade school, or employment.
Eligibility:
Must be a current resident of the City of Greater Sudbury;
Must be earning an Ontario Secondary School Diploma by June, 2023;
Must be able to articulate how they have served as champion of change by demonstrating a commitment to diversity, inclusive practices, and cultural acceptance in their community and/or school;
Must consent to the release of their secondary school transcripts to support their application;
Must have demonstrated good academic standing throughout their years in secondary school;
Consent to the publication of their name and photograph by the Greater Sudbury Police Service (if selected);
Each applicant must submit a minimum of one (1) letter of reference and a maximum of five (5) from a teacher, guidance counsellor, school principal, volunteer supervisor, employer, and/or community leader;
The minimum for group applications is two (2) and the maximum is three (3)
Submission Requirements
All submissions must outline how they have served as a champion of change and how they have promoted awareness of diversity, inclusiveness, and cultural acceptance in their school and/or community.
Each applicant or group of applicants applying must demonstrate involvement in their school and/or community activities and contribution to improving their community/school with positivity and perseverance.
Submissions can be presented in various formats:
Essay: between 750 – 1000 words in length
Video: Instagram, Vimeo, YouTube, etc.
Poetry
Song
Visual Arts
How to Apply:
A completed application will be submitted to Greater Sudbury Police Service. Please be advised that group applications will be accepted, however if successful, the group will be required to split the amount into equal dominations.
Applications will be accepted until 12:00 p.m. on Friday, June 16, 2023. Winner(s) will be contacted by June 28, 2023.
An application can be submitted in the student's first language. If the application is submitted in another language other than English or French, a transcript in one of the official languages must accompany the submission.
This bursary will be awarded annually. The Bursary Review Committee reserves the right to distribute one bursary between one or more persons or no bursary in the respective submission year, if the quality and quantity of submissions warrant this decision.
Please refer to the Diversity Bursary Submission Checklist. The checklist is to be signed and placed at the front of the complete submission package. Incomplete submission packages will not be considered. Complete application packages and mailed documents can be sent to:
Greater Sudbury Police Service
c/o Diversity Advisory Committee
Human Resources Branch
128 Larch Street 7th floor
Sudbury ON P3E 5J8
Or electronically to gsps.hr@gsps.ca
Why You Should Join the Diversity Advisory Committee:
Make a difference in the community. Be a voice to the Chief of Police. Increase friendship circles, lead inspiring and motivational opportunities in the community and have fun!
Responsibilities
Enhance, enrich, and when required establish positive connections between the office of the Chief of Police and the multiracial/multicultural communities within the City of Greater Sudbury.
Provide counsel to the office of the Chief of Police on matters related to multiracial/multicultural issues affecting communities within the City of Greater Sudbury.
Assist in the assessment of the implementation strategies to promote equitable multiracial/multicultural representation throughout the various positions within the Greater Sudbury Police Service.
Foster and environment of trust while building a culture of understanding and respect.
Participate on promotional assessment panels when requested.
Promote outreach community engagement with the police and the public.
Identify and respond to issues of concern.
Assist in the assessment of operational policies to ensure Equity, Diversity and Inclusion.
Promote events that will support the purpose of Greater Sudbury Police Diversity Advisory Committee.
Continue efforts to promote inclusivity and build healthy relationships with students and newcomers new to our community.
Encourage open dialogue with members of the multiracial/multicultural communities and the Greater Sudbury Police Service.
Provide input into GSPS cultural awareness and sensitivity training.
Duties of Members
Attend Committee meetings.
Prepare for the meetings by reading related materials.
Participate actively in community events and internal processes.
Keep informed on roles, responsibilities and activities of the Advisory Committee.
Serve on sub-committees or ad hoc task committees as may be appointed.
Share information/concerns as appropriate.
Notify the Chair if unable to attend meetings.
The Committee generally meets quarterly from September to June hosted at Police Headquarters. Committee membership includes representation from community organizations, citizens and youth. As part of the consideration process, a criminal records check is required.
The Greater Sudbury Police Service is committed to providing a supportive work environment. There are policies and practices in place for accommodating members with disabilities.
Should you require a specific accommodation during your volunteer service please advise the Human Resources Branch.
Individuals who share Greater Sudbury Police Service vision of working to improve community safety and the well-being of people living in the community are invited to submit an application to be considered for membership on the committee.
If you are interested in joining the Diversity Advisory Committee please e-mail gsps.hr@gsps.ca.